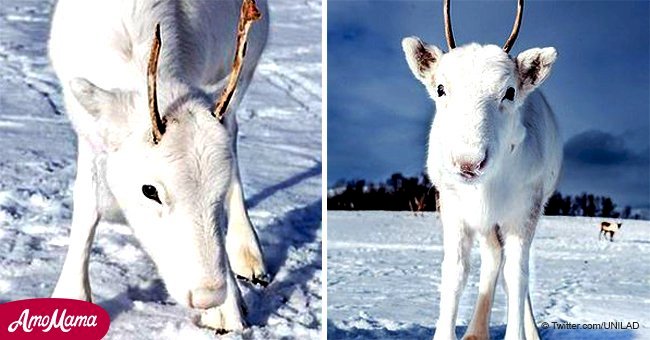 Man spots extremely rare white reindeer camouflaged against the snow
An otherwise normal hiking trip turned into a viral story when a 24-year-old photographer discovered a rare white reindeer calf amid the snow.
Mads Nordsveen from Oslo, Norway was hiking up the snowy landscape in northern Norway with his friends when he spotted the rare animal perfectly camouflaged against the backdrop of the snow.
The young photographer told the Caters News that he was on a lookout for nice landscapes to shoot as a part of his travel photography when he spotted the white reindeer.
The baby reindeer seemed to be alone at first but, after a while, his mother also came along out of the trees.
Follow us on Twitter to learn more.
Nordsveen explained that the baby reindeer was much calm and relaxed in the human presence. It even came near to him to the point that they could stare at each other straight in the eyes.
He had a feeling that the animals were almost posing for his camera. "He was very curious and fun. Like a little explorer."
The baby reindeer walked around for some more minutes before returning back to its mother. For Nordsveen, however, the moment would last forever as a magical memory. "Maybe one day we'll meet again," the hopeful traveler told the news outlet.
Since Nordsveen put up the pictures on his Instagram, it has received more than 35,000 likes and many more have taken to the comments section to gush about the cuteness of the reindeer.
Meanwhile, BBC reported that the rare and unusual color of the white reindeer is caused by a genetic condition, which reduces pigment from their fur. Spotting one of these animals is even considered a sign of good luck in several Scandinavian traditions.
Surprisingly, there are several other animals who are born with a color much different to that which their species are associated with.
Previously, a field guide at South Africa's Ngala Private Game Reserve also spotted and caught on tape a rare white lion cub among the litter.
Please fill in your e-mail so we can share with you our top stories!