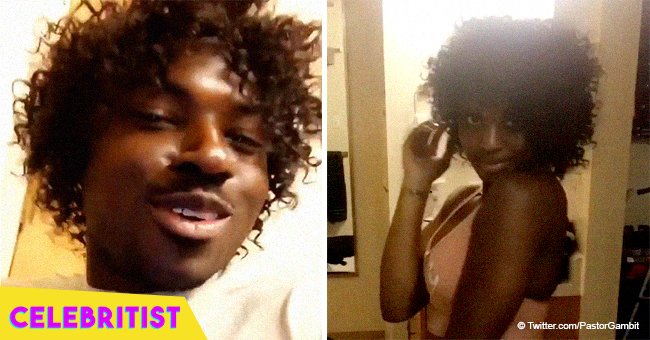 Video of boyfriend helping his girlfriend make a new wig still melts hearts

A now-famous boyfriend exceeded expectations when he agreed to be his girlfriend's wig model while she created a hairpiece from scratch.
A college student who goes by the name Stevie Que on Twitter gained instant popularity when he shared a video revealing his efforts to support his girlfriend. Stevie patiently sat as a model for his girlfriend who was working on making a brand new wig.
Stevie's task as evident in the clip was to sit and pretend to be a mannequin while his girlfriend applied hair strands on his head which is covered with a wig cap. To while away his time while waiting for the wig to be completed, he took out some books and studied for an exam.
The two-minute clip also saw Stevie, who was recording the whole thing on Snapchat, experimenting with fun filters as his girlfriend laughed along.
When the whole thing was over, Stevie posted the video and earned over 53,000 retweets and close to 100,000 likes. The clip seemed to have drawn more attention to the man's sweet gesture rather than his girlfriend's expertise in creating a wig.
"I want a boyfriend like this man,"one user wrote while others labeled the clip as #couplegoals.
Stevie's dedication to his girlfriend is commendable and so is his girlfriend's efforts at producing wigs. Wigs can be very valuable to people who need a lift in self-confidence due to problems with hair loss. This is also the reason why a woman from Georgia made it her business to create custom-made wigs for children. She wants children who suffer from hair loss conditions to feel as normal as everybody else.
Quilla Bohannon is determined to produce as many wigs as she can. She even enlisted the help of her family so she can provide wigs to as many children who need them as a source of comfort. She initiated a fundraiser called "Free Wigs For Kids"to raising money she could use to prepare the hair pieces. She already has more than 2,500 requests for wigs which she hopes to deliver with the help of her fundraiser.
Please fill in your e-mail so we can share with you our top stories!