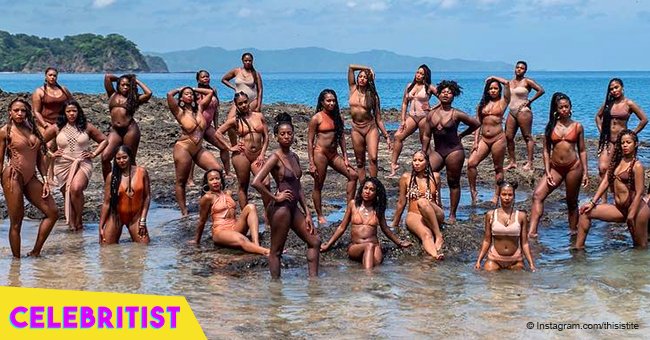 Photos of sorority sisters in beach photoshoot dubbed 'Melanin Illustrated' are still pure gold

A group of sorority sisters celebrated their special bond with an inspiring photo shoot glorifying natural skin.
Members of the Florida A&M chapter of Delta Sigma Theta sorority traveled to Liberia, Costa Rica to commemorate their 10 years of sisterhood. To mark the milestone, they decided to have a beach photo shoot that anchored on self-love.
CELEBRATING NATURAL SKIN
The photo which would later become a headliner featured the sorority's 28 members dressed in neutral-colored swimsuits that matched their skin tones. According to one of its members, Jardan Doneghy, who spoke to Essence, they wanted to send out a message relating to "being comfortable in the skin you're in." It was an effort that also took into consideration African American women who often get the feeling of being "overlooked and underrepresented," added Doneghy.
The photo, hashtagged "#Melaninillustrated" also became a powerful representation of the shift in fashion and beauty today – one that celebrates the natural look as evident in the emergence of nude shades in makeup, clothing, and accessories.
Despite this, according to Doneghy, it became quite a challenge for the members of the sorority to find the perfect swimsuit to match their palettes. There were a lot of nudes, but not enough brown nudes.
"They had a lot of pale to pink swimsuits in what they consider "nude," but that's not African American nude, so we did have a lot of difficulty there. It took a lot of planning."
STAGING THE PHOTO SHOOT
When the swimsuits were secured, the next thing they planned for was how they were going to pull off a "Sports Illustrated" inspired photo. For this, the girls took lessons in posing for swimwear with the help of a cheerleader from the L.A. Rams.
The girls had a vision of a photo that would exude beauty in the form of self-confidence. And that they clearly achieved. Just take a look at the astounding photo that took the internet by storm.
RIDING ON THE NUDE TREND
More and more brands and products are riding on the nude trend including a ballet shoe company which started developing nude colored pointe shoes that would cater to darker skin tones. This move was a response to black ballerinas who would often have to color the traditional light colored pointe shoes with "pancake" foundation so it would match their skin tone. With the latest darker shades developed by Freed of London, African American and Asian ballerinas wouldn't need to rely to the painstaking task.
Please fill in your e-mail so we can share with you our top stories!