Halle Berry, 52, winds back the clock in cleavage-baring, thigh-high slit dress in Milan
Halle Berry, one of the most popular actresses in Hollywood, attracted a lot of sights at the 2019 Pirelli Calendar launch gala held in Milan, Italy.
The 52-year-old star chose an AADNEVIK gown that featured a beautiful V-cut, long sleeves, and a thigh-high slit that made her look astonishing. Apart from that, the pale pink dress had a belt-like section cinched in around the actress' waist that enhanced her physique.
To match the beautiful number, Halle, who recently said she was "in the best shape of her life," put on pink high heels that gave her legs an even stronger and longer look (if possible).
Her hair, which was pulled back into a fringed chignon, and her makeup set clear that, even though she is 52, the clock stopped for her way before. To give her outfit the final chic touch, Halle chose Marco Bicego earrings and a Maxior ring.
Peter Lee Thomas, the trainer who has been working with Halle for two years already, told People that she is "super committed" to her workout routines and healthy lifestyle. The man confessed that she has the discipline and athleticism of a 25-year-old person.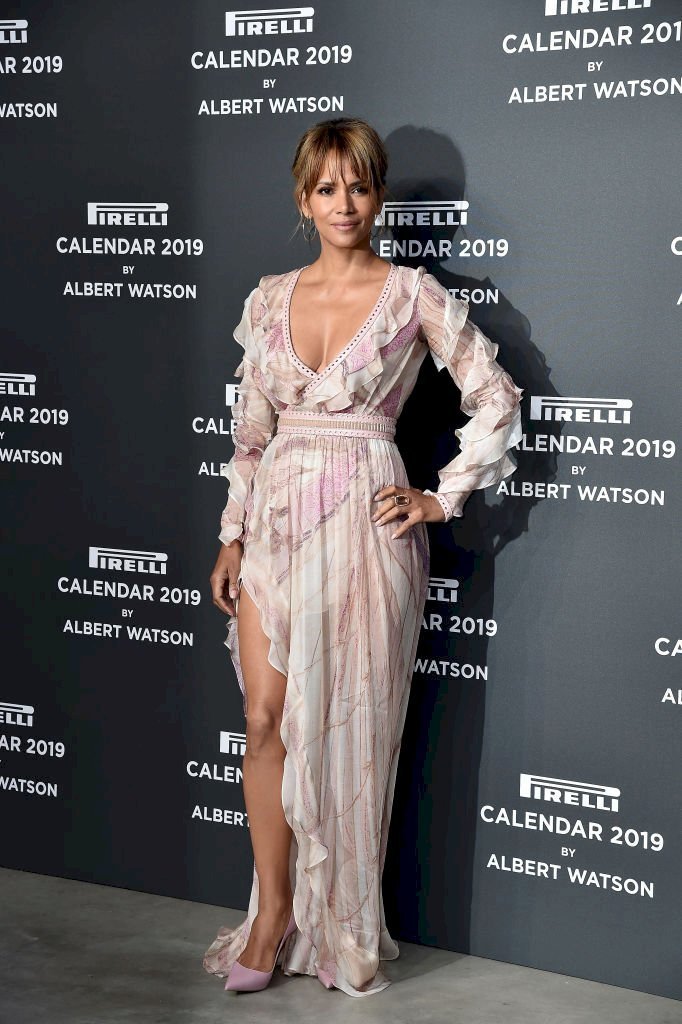 As a way to encourage her to be better, Peter created an insane routine including everything from martial arts, boxing, yoga, and "a lot of military training [like] the Navy Seals would do."
Peter even set clear that Halle was so good at exercising that she could "very easily" make the transition from an actress into a professional athlete whenever she wanted to.
"She's also not afraid to experiment and explore and take risks when it comes to fitness, because she understands that in order for there to be potential growth and change, she's going to have to do things that are commonly difficult to do," admitted Peter, who trains with the actress five days a week.
Over the years, Halle has shared some tips and details about having a fitness lifestyle. One of the things she has said is that, once you get used to exercising, it turns into something you look forward as it becomes a stress reliever that makes you feel relaxed and optimistic. "After I work out, I feel like I can conquer the world," said the actress.
At the moment, Halle is focused on taking care of her children Nahla Ariela and Maceo Robert, as well as on her career. She is expected to appear on "John Wick 3: Parabellum," which will be released in 2019.