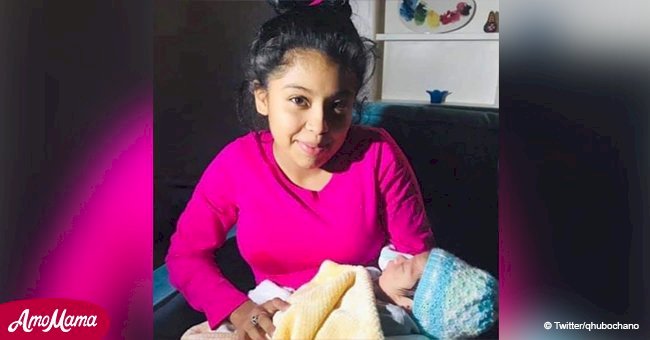 19-year-old Honduran in migrant caravan scales border to give birth on U.S. soil

A heavily pregnant Honduran woman climbed the 21-foot border wall to give birth in the United States.
A desperate member of the Migrant Caravan, a Honduran woman called Maryury Elizabeth Serrano-Hernandez, scaled the 21-foot border wall, reported the Washington Times on December 5, 2018.
Serrano-Hernandez, 19, traveled the 2,000 miles to the United States with her husband, Miguel Ortiz, 20, and their three-year-old son. She was seven months, pregnant at the beginning of her journey, and her dream was to give birth on U.S. soil.
"The woman, who was eight months pregnant, began complaining of abdominal pain and was immediately transported to a local hospital by Border Patrol agents."
TRAVELING TO GIVE BIRTH ON U.S. SOIL
Even though she was 8-months pregnant, Serrano-Hernandez climbed over the daunting wall with her family. On reaching the U.S., the family was confronted by three border patrol agents and asked for asylum. They were then taken to the Imperial Beach Station in San Diego County for processing.
Serrano-Hernandez complained of abdominal pains and was taken to hospital by the three border patrol agents where she gave birth to her second child, a son.
Serrano-Hernandez's husband claims that Border patrol attempted to handcuff her immediately after giving birth
REVIVING THE "ANCHOR BABY" CONTROVERSY
Serrano-Hernandez expressed her joy at her child's birth in the United States, who, under Constitutional law is a U.S. citizen:
"With the faith in God, I always said my son will be born there (in America)."
The news of Serrano-Hernandez's baby's dramatic birth is sure to reignite the fierce debate triggered by President Donald Trump's announcement that he intended to end birthright citizenship with an executive order.
BIRTHRIGHT CITIZENSHIP AND THE AMERICAN CONSTITUTION
The 14th Amendment to the Constitution of the United States was ratified on July 9, 1868, and granted citizenship to "all persons born or naturalized in the United States," and forbids states from denying any person "life, liberty or property, without due process of law" or to "deny to any person within its jurisdiction the equal protection of the laws."
THE FOURTEENTH AMENDMENT MAKES SERRANO-HERNANDEZ'S BABY A CITIZEN
Thanks to her baby's citizenship and under the current law, Serrano-Hernandez and her family will now be permitted to remain in the U.S.
Serrano-Hernandez's husband claims that Border patrol attempted to handcuff her immediately after giving birth and that the family was later taken to the San Diego detainment center.
Allegedly clothes, diapers and baby wipes gifted by the hospital nurses to the baby were confiscated by agents at the center. Border Patrol officials did not comment on the allegations or respond to inquiries by the press.
Read more on Twitter Amomama USA.
MOTHERS AND WIVES OF MISSING IMMIGRANTS MARCH TO RAISE AWARENESS
A group of women calling themselves the Caravan of Mothers of Disappeared Migrants is marching alongside the Migrant Caravan, but they have no intention of entering the United States.
These women are marching to raise awareness to the plight of thousands of men, women, and children who vanish without a trace after setting out on their journey north, to what is for them the Promised Land: the United States of America.
It is believed that tens of thousands of migrants from Central America have disappeared in Mexico while trying to make it to the United States.
These migrants are thought to have fallen victim to human traffickers, and drug and gang violence. The twenty-five mothers, sisters, and daughters who comprise the Caravan of Mothers have traveled from El Salvador and Honduras in search of their loved ones.
They hope to inspire Mexican authorities to investigate the disappearances and search for the thousands of people who have gone missing in Mexico..
In a related story, members of the Party for Socialism & Liberation have marched in protest to show their solidarity with the migrants currently waiting at the US-Mexico border.
Please fill in your e-mail so we can share with you our top stories!