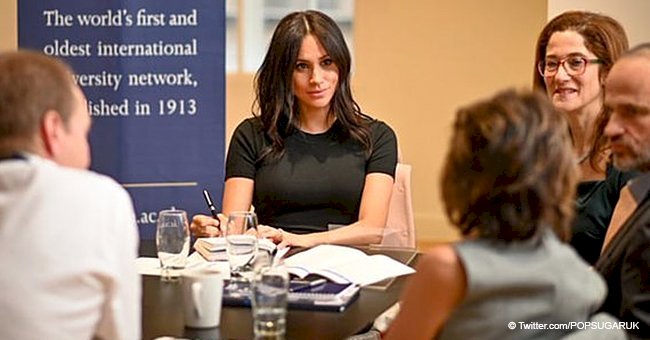 Pregnant Meghan Markle makes surprise solo appearance at King's College in London

If you thought royalty was going to stop Meghan Markle from attending to causes close to her heart, think again! The Duchess of Sussex paid a surprise visit to a college on Wednesday to deliberate on vital issues.
Meghan was at the King's College in London with a group of students, academics, and university leaders to discuss matters pertinent to the provision of higher education.
The event, organized by the Association of Commonwealth Universities (ACU), had guests talking about what they could do to address "human trafficking and modern slavery, gender equality and inclusion, peace and reconciliation, and climate change and resilience."
Meghan or Kensington Palace did not announce the meeting, and so far, there's been only one photo of the pregnant Duchess who appears to be taking notes as she seats at a table with other guests.
Despite the seriousness of the occasion, the former "Suits" star gave off a pregnancy glow in her black top and flowing curls.
The ACU tweeted about the event and acknowledged Meghan's presence:
"Today we brought together university leaders, academics & #students to discuss how we can build a better world through #highered. We were honoured to be joined by HRH The Duchess of Sussex. Thanks to @KingsCollegeLon for hosting!"
Meghan has always been vocal about her passion for education, and on her first tour with her husband, Prince Harry, the 37-year-old added her voice to the global conversation.
In October, while sharing her experiences with scholars from the University of the South Pacific in Fiji, Meghan recalled how she put herself through school with financial aid and work-study programs.
"As a university graduate, I know the personal feeling of pride and excitement that comes with attending university," said the royal mom-to-be. "From the moment you receive your acceptance letter to the exams you spend countless late nights studying for, the lifelong friendships you make with your fellow alumni to the moment that you receive your diploma, the journey of higher education is an incredible, impactful and pivotal one."
She concluded:
"Everyone should be afforded the opportunity to receive the education they want, but more importantly, the education they have the right to receive. And for women and girls in developing countries, this is vital."
Meanwhile, Meghan's surprise outing came only two days after she reportedly met with Michelle Obama for the first time. The two influential women are said to have met privately on Monday evening when the former First Lady stopped over for the London leg of her book tour.
Among other topics, Meghan and Michelle reportedly talked about their shared interest in girls' education and female empowerment.
Looks like the Duchess of Sussex is wasting no time in putting her words to action. Her and Prince Harry's child is scheduled to arrive sometime in Spring 2019 (March 20-June 21) but Meghan shows no sign of slowing down just yet.
Please fill in your e-mail so we can share with you our top stories!