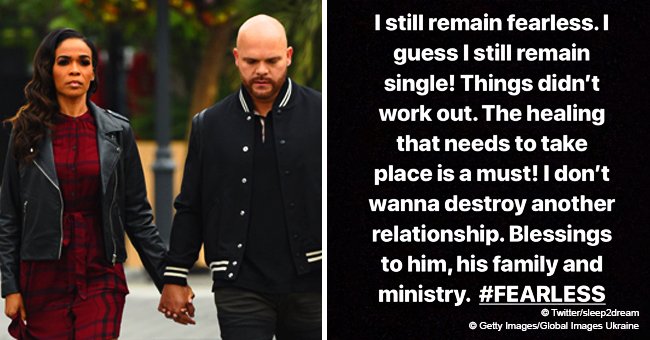 Michelle Williams announces split from pastor fiancé Chad Johnson after counseling
On the same day Michelle Williams dropped her latest single, she also dropped her fiancé Chad Johnson.
Michelle Williams has just revealed she and pastor Chad Johnson will no longer be walking down the aisle.
"I still remain fearless. I still remain single!"
CHOOSING TO REMAIN SINGLE
In an Instagram Story which has now been deleted, the former "Destiny's Child" singer was "sorry to disappoint" when she announced that she remains single.
"I still remain fearless," the singer began, alluding to her latest track, "Fearless" which was released on the same day she publicized her split.
"I guess I still remain single! Things didn't work out. The healing that needs to take place is a must! I don't wanna destroy another relationship. Blessings to him, his family and ministry. #FEARLESS."
She added,
"Sorry to disappoint everyone. We are no longer together."
HOW THEY STARTED
Williams and Johnson met in March last year during a spiritual retreat in Arizona. At the time, the 38-year-old entertainer said she was "in a horrible, dark place" adding,
"I just needed to go somewhere where I could get a message of hope and restoration, rejuvenation — get connected to God."
She bonded with Johnson over their faith and a year later, in April, the 40-year-old pastor proposed at a resort in Pebble Beach. Williams recalls being shocked and crying profusely during the engagement. Onlookers thought she was receiving bad news.
SIGNS OF TROUBLE
Despite her tears of joy, things spiraled weeks later. Williams called off their engagement twice before checking into a treatment facility three months after for severe depression.
Johnson was supportive of Williams during her time at the facility even when she tried to push him away. But things turned for the worse during a premarital counseling in their new show, "Chad Loves Michelle" which was launched in November on OWN.
Tension built when Williams brought up their disparity in race and how it's affected their communication lines. She insinuated that Johnson didn't understand her because he wasn't Black. This offended Johnson who appeared to justify Williams' irrational thoughts by blaming it on her mental health struggles. When the conversation got heated, he asked,
"Did you take your meds today?"
DONE FIGHTING
Just a month earlier, Williams was willing to fight for their relationship in an interview with People magazine. She told the publication,
"I'm assuming a lot of relationships go through a period of time where one or more people get overwhelmed. You don't even know what it's like to have real love because I've had to fight so much in past relationships: fight to have a place, fight for you to see me, fight for you to love me, fight for you to be faithful. In this relationship, I didn't have to do that, but I was so ready to fight."
Now it appears the fight is over and no one one.
Please fill in your e-mail so we can share with you our top stories!