Meghan Markle refuses to talk with father Thomas personally, so he wrote a letter to her mother
Thomas Markle is not only clearing his name, but he's also still trying to speak to his daughter. He hand-delivered a letter to her mother in his attempts.
The 74-year-old spoke to the Daily Mail about a number of claims made against him this year. He not only addressed them but gave physical proof to show he wasn't lying. 
Thomas is plagued by the backlash from his admitted mistakes and from fabricated stories. More so, he wonders why his own daughter is "believing the lies." That's something she herself told him not to do. 
Follow us on Twitter for more @amomama. 
When talking about his attempts to reach the new Duchess of Sussex, Thomas said: 
"I have sent several texts. Her number hasn't changed and they haven't bounced back. I've pleaded with her to pick up the phone. I wrote her a two-page letter and sent it by certified mail via her representative in Los Angeles." 
Thomas said that he "even hand-delivered a letter to Doria asking her why [their] daughter won't speak to me." 
Meghan's mother Doria Ragland, 62, was the only member of her family to attend her royal wedding back in May 2018. Her father, who had taken pictures of himself being sized for a dress suit, did not go. 
According to reports at the time, he faked a heart attack so as to avoid going. Thomas said this isn't true, and he showed the medical bills and hospital discharge letter that proved otherwise. 
He explained: 
"I had two heart attacks, the second of which the doctor called a widow-maker and nearly killed me." 
Since missing the wedding, Thomas has done four interviews including this most recent one. Yet he had to counter the claim that he was selling stories. 
Most recently, a report that Meghan, 37, brought her sister-in-law Kate Middleton to tears during a dress fitting. The rumor went that Middleton ended up telling Meghan: "That's unacceptable. They're my staff and I speak to them." 
Thomas had this to say of the incident: "I don't recognize this person. The Meghan I know was always sweet, kind, generous. She was always demanding but never rude. I don't want to say or do anything to hurt my daughter but I worry she is going to hurt herself."
He added: 
"Meghan grew up on set. I taught her to have respect for the crew. They can make you look good or awful. I don't pretend to know what she's like now."
He continued: 
"I'm not selling stories. People make things up and my daughter and her husband believe the lies, the one thing they told me never to do.

"She bends the rules. She's good at that. But this acting up is new. She's never been rude to me before. I can't believe I've done anything severe enough to be treated this way by her."
Thomas would also never have expected his daughter to put up such a "wall of silence" alongside her new husband Prince Harry. In fact, the big news that the couple was pregnant reached Meghan's father through the radio. 
For days afterward, he was surrounded by paparazzi who had even rented a house next to him. The lies and harassment is ongoing, and he is hoping it can stop if Meghan responds to him. 
The soon-to-be grandfather is a former lighting director who worked in Hollywood. He raised Meghan since she was 11 until she attended university. 
His mistakes which led to the shutoff from Markle includes calling her new family a "cult," describing his daughter as "terrified" of her new duties and staging paparazzi photos to portray himself better before the big wedding.
Meghan Markle's dad found out she was pregnant from his car radio https://t.co/ucEqwilupJ pic.twitter.com/9FMnCDgVeM

— Mirror Royal (@MirrorRoyal) October 22, 2018
Despite his shortcomings, Thomas declared that Meghan and Harry's "treatment of [him] is harsh, hurtful and unforgiving." 
He pleaded: 
"I'm being punished for things I didn't say. I am not perfect, I made mistakes but my punishment does not fit the crime. Even murderers get visits from their daughters in jail."
Furthermore, Thomas asserted that right "up until her wedding to Harry," he and Meghan "were as close as a father and daughter could be." 
As proof, Markle showed a portion of the "hundreds" of notes from his daughter. Meghan used to make money writing wedding cards during her time in college.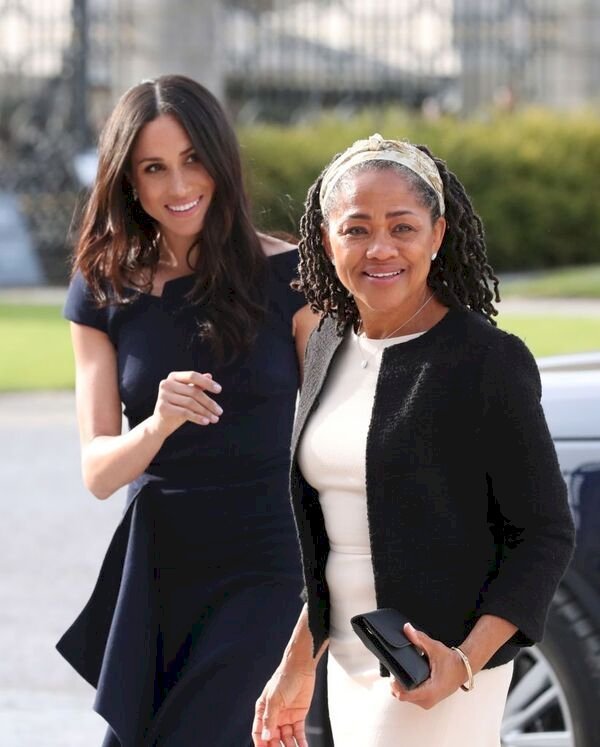 Thomas said: "Sometimes they were for special occasions, other times just little notes she would leave around the house. I've still got a Post-It Note on my fridge which says, "I love you, Daddy."
One of them read: 
"Daddy… I don't express as often as I should how much you mean to me. Everything you do for me has turned me into who I am and I am so grateful. All I want to do is make you proud… and I promise, no matter what, I'll do it. Thank you for everything daddy. I love you with all of my heart now and forever. Love Bean."
Meghan Markle's Dad Thomas says she'll be a great mum after being told the news by ex-wifehttps://t.co/wdyOPrUrEO pic.twitter.com/I2nT1pMFZa

— Mirror Royal (@MirrorRoyal) October 15, 2018
As time goes on, Thomas insists he is "not going to stay silent." This will be the first Christmas that he likely does not hear from his daughter, and it anguishes the father. 
Thomas said that "maybe" the two will reunite. Until then, he left these positive words towards his daughter and her prince: 
"I want her and Harry to have a beautiful, healthy baby and a great life."