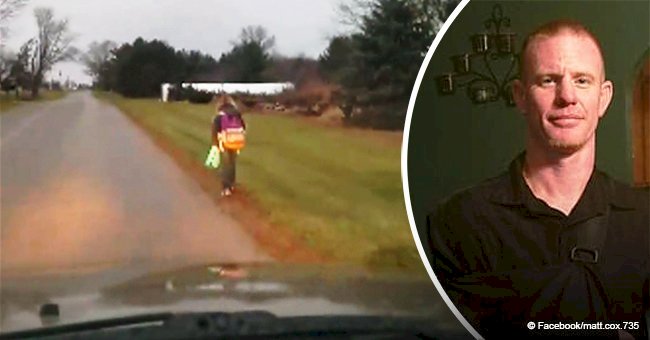 Ohio dad makes his daughter walk miles to school for bullying in viral video
A father from Ohio made sure to teach his daughter a lesson after she was reported to be bullying other kids in her school.
Matt Cox said that he decided to teach his 10-year-old daughter a lesson by making her walk to school after bullying a student on the school bus she usually rides. The video has now gone viral on the internet and has sparked a heavy debate as to whether or not what the father did was okay.
However, when Cox posted the video of his daughter walking, he already knew that he was going to face heavy criticism, and that was okay with him. After all, everyone has different parenting styles, and this is the way he believed would best teach his daughter not to bully other children.
"So today, my beautiful daughter is going to walk five miles to school in 36 degree weather. I know a lot of you parents are not going to agree with this, but that is alright."
In the video, he explains that he is doing "what he feels is right" to teach his daughter a lesson about bullying.
"For the second time this school year [she's] been kicked off this school bus due to bullying another student. Let me make this extremely clear: Bullying is unacceptable, especially in my household."
While some parents praised Cox for his discipline tactic, there were also some that believed that it could have been handled in a more humane way.
"Sherry Stine: As a parent, the thing that made my kids listen the most was either taking away the thing that they really cherished or making them give up an easy pleasure, example, being driven to school or the bus that picks them up right in front of the house. Some kids just don't understand consequences Any other way."
"David Petersen: I completely agree and don't understand people saying he is bullying his kid. if the kids a bully they need to be taught a lesson good dad"
Thobile Myaka: bulling is not right at sll for any child to do on anyother child but what is the dad doing is so wrong and heartbreaking the child is not going to stop bulling if he lets his daughter walk in a bad weather he is a [bully] himself"
At the end of it all, the dad hopes to teach his daughter a lesson on privilege, and on the fact that bullying, in any case, should not be tolerated.
Please fill in your e-mail so we can share with you our top stories!