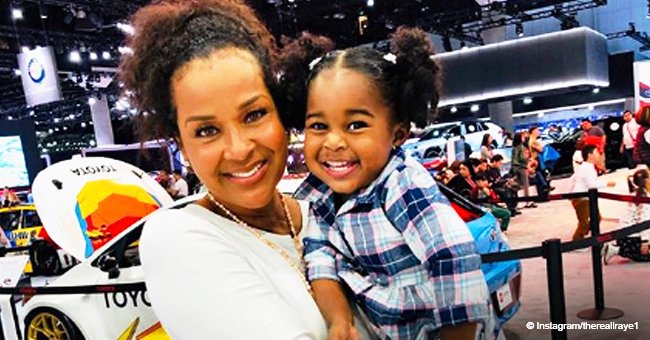 LisaRaye McCoy melts hearts with new photo of growing granddaughter & her 2 cute ponytails
LisaRaye McCoy is enjoying the bliss of having a toddler around once again thanks to her adorable granddaughter, Bella Rae. The pair recently attended an auto show, and baby Bella seems to have enjoyed herself.
Bella Rae will be turning 2 in a few days, and she's already a star on the making. The toddler has been stealing the spotlight from her famous grandmother in every Instagram post she's featured in, melting hearts with her adorable smile and bright personality.
LisaRaye loves to show off Bella around and spend quality time with her, so she recently attended an auto show in Los Angeles with the girl in tow. And because the most special memories have to be documented, Raye shared a pic to from their girl's day out.
MATCHING SMILES
In the shot, Lisa is wearing a white t-shirt with frills on the bottom and matching pants, while holding Bella in her arms. The girl rocked a blue plaid t-shirt, white pants, and fluffy white boots. Her thick curly hair was styled in two ponytails that only enhanced Bella's cuteness.
"LA Auto Show w/this cutie @babybellarae today. #LifeRocks #CarShopping #Love #Grandbaby," Raye captioned the pic.
Fans of the "Single Ladies" star took over her comment section to gush about the pair, and most took their time to point out the high resemblance between Lisa and Bella.
"She's beautiful and so are you. She looks like you Momma," wrote one fan. Another added, "Grandbaby?! Look like she could be yours. She's gorgeous," and a third one agreed, "Too cute. She looks like you. You are not aging. What is your secret? I do not see any wrinkles, just a natural beauty."
FAMILY TIME
Bella Rae is the only daughter of LisaRaye's daughter Kai Morae, and she was born on December 17, 2016.
Mom and daughter love to visit LisaRaye whenever the actress is not working, and just a few weeks ago Kai gifted fans with an adorable video of her mom and baby making some cornbread together, as she proudly gushed about Bella being a "big girl."
In the clip, recorded by Morae but shared by Lisa, the actress can be seen standing next to Bella, who's sitting on her baby chair on the kitchen counter, as she learns how to whisk the batter.
"Yeah! Big girl!" Kai says in the background. "You're cooking with granny?" she asks, and Bella just hums, not losing her focus from the task at hand. "I'm holding it," the girl babbles, as she helps Lisa put the batter on a baking sheet.
Then, she gives the camera a big smile after finishing while Lisa kisses her kiss in delight.
FAILED ENGAGEMENT
Is not a rare recurrence to see LisaRaye and Bella hanging out, and now that the 51-year-old went through a failed engagement with Anthony Bryant, is clear she has shifted her focus to her family once again.
But that doesn't mean she's off the market. On the contrary, she's still on the lookout for love, but this time more carefully.
Please fill in your e-mail so we can share with you our top stories!