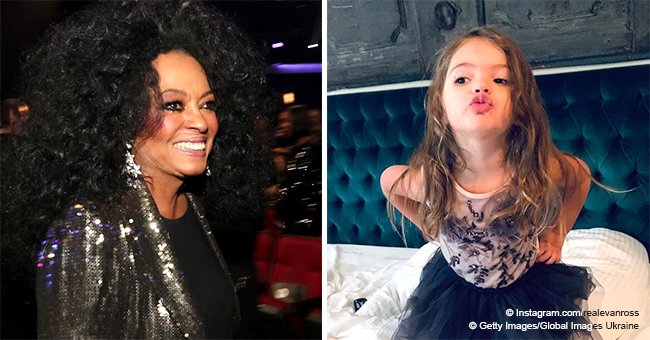 Diana Ross' granddaughter, 3, captures hearts posing in a black tutu in new photo
Evan Ross and Ashlee Simpson's daughter, Jagger Snow, is quite the stunner in recent pic shared by her father on Instagram. The adorable toddler is already a star in the making and wants to follow her grandma's steps, according to Evan.
Jagger Snow carries the talent and beauty in her veins from both sides of her family. She's the granddaughter of the legendary Diana Ross, and her father Evan is also a musician. On the other hand, both her mom Ashlee Simpson, and her sister Jessica, are talented singers and songwriters.
So, is only natural for little Jagger to start showing off some diva-ish mannerisms when she sees a camera pointed at her.
SHOWING OFF HER MODEL SKILLS
Evan's most recent Instagram pic of the toddler depicts her standing on the middle of a bed, rocking a black tutu with a silver embroidered top, and giving a kissy face to the lens with her hands on her waist, an iconic sassy move that is worthy of the Ross family.
Evan only added two heart emojis to his caption, and fans filled his comment section gushing about Jagger's cuteness. "Mom and Dad are gorgeous, so of course she's gonna be too. Such a cutie!!" wrote one user, and another added, "I can tell she has your Moms personality."
TAKING AFTER GRANDMA IN MORE THAN ONE SENSE
Jagger, indeed, is already taking after her "Ami," as she calls Diana Ross. Talking to E! News, Evan and Ashlee revealed that while Jagger is into princesses, tutus, and ballet these days, she also loves to sing and be the little star at home.
"She wants the sparkles and the microphone!" said Evan. And when asked if its possible Jagger will pursue a career in the music industry, the proud dad added "100%. 1000%. I don't know if we have a choice in the matter."
Not only did Jagger inherited the passion for the arts, but she's also strong-minded and opinionated like her grandmother and is vocal when it comes to her fashion choices.
"I love dressing Jagger. It's so much fun for me!" Simpson told People at the launch of her and Evan's Zadig & Voltaire clothing line, called Jagger Snow. "If she doesn't like something, she'll check it out in the mirror and tell me."
There's no doubt Jagger is a star on the making, and she already did her TV debut on "Ashlee & Evan," the new reality show that follows the lovely couple as they prepare to record their first duet album while parenting Jagger and Ashlee's 9-year-old son with Pete Wentz, Bronx.
Please fill in your e-mail so we can share with you our top stories!