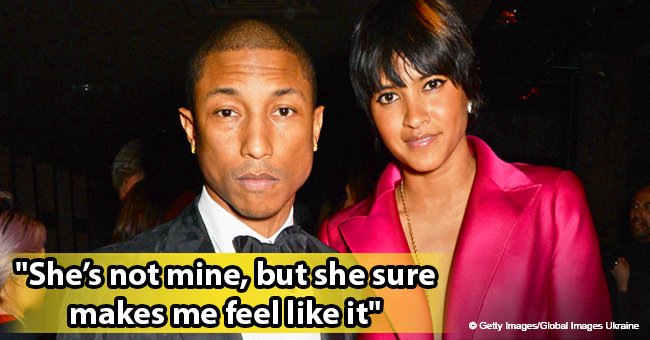 Pharrell Williams reveals why he loves his wife of five years & what makes their marriage work

Pharrell Williams, one of the most influential musicians in recent times, was in an interview with People to talk about his wife, Helen Lasichanh.
Soon after the man took the stage at the American Express Platinum House in Miami, he told People that he loved his Helen because of "everything that she is – good, bad, and indifferent."
Apart from that, Pharrell pointed out that their relationship is based on mutual love and respect. According to the "Happy" singer, he does not possess her, a term that he didn't quite understand when he was younger.
"When I was young I used to say things like, 'Oh, she's mine.' But she's not mine, but she sure makes me feel like it," said Pharrell. Helen was also at Platinum House next to her husband enjoying the performance that closed his year artistically speaking.
A LONG YEAR
The couple has been on the road together for the past two weeks as Pharrell was booked for several presentations around the globe. He admitted to being exhausted "from this whole year."
Pharrell said that one of his favorite concerts in the year took place in South Africa, where he, Beyoncé, and Jay-Z took the stage together during the Global Citizen Festival to perform their song "Nice." He didn't get to sing a word during the presentation, though.
"There's a lot of familiar energy that you feel. Language might be different, customs might be different, but you feel the energy when you're around your people. It's just a natural thing," confessed Pharrell of the show.
Helen and Pharrell dated for several years before tying the knot in October 2013. So far, they have had four children: Rocket, 10, and the soon-to-be two-year-old triplets, whose names have not been revealed to the public yet.
12 NURSES!
Even though there is little-to-no information about the couple's triplets out there, what's true is that Pharrell and Helen have 12 nurses in constant rotation helping the busy parents take care of the children.
During a segment of "Good Morning America," Pharrell talked about the staff that assists him, saying that Rocket was also very helpful and "such an amazing big brother" to the toddlers.
Helen and Pharrell welcomed their triplets in January 2017, only three months after they confirmed they were expecting children.
Please fill in your e-mail so we can share with you our top stories!