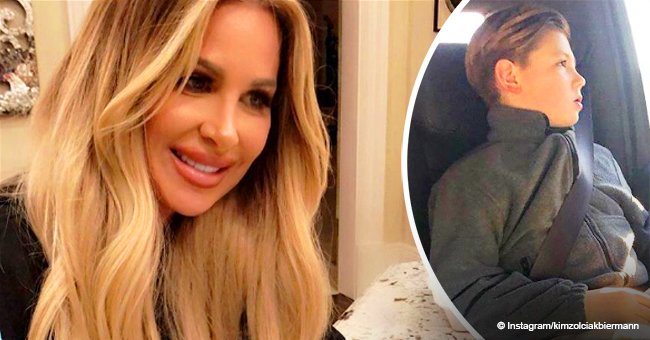 Kim Zolciak shocks fans after sharing new photo of 6-year-old 'looking like a teenager'

Kim Zolciak, the TV personality best known for "Real Housewives of Atlanta," took to Instagram to share a photo of one of her sons, Kash, looking like a teen.
In the image, the boy, born on August 15, 2012, appeared sitting in a booster seat on his way to school wearing beige pants and a grey sweater while looking through the window.
Even though he is only six years old, the clothes and his hairstyle made him look a lot older than that. In the caption, the proud mother wrote, "My baby on the way to school this morning! He is such a BIG BOY he is only 6. He melts me. His heart is unreal."
PEOPLE'S REACTION
As soon as Kim uploaded that image, her followers took to the comment section to share their thoughts. One of them pointed out that the boy looked like "a teenager," while others wondered why he was sitting on a booster seat.
"Y is that grown man in a booster seat [sic]," asked a follower.
"People that are here criticizing a 6 year old boy in a booster seat clearly doesn't know the law over here in California the weight limit 7 years old and 70 pounds, it's for safety ! Everyone needs to calm down [sic]," responded another user.
Even Kim took her time to jokingly reply to those people who wondered why Kash was in a booster seat saying, "I'll keep them in one until they are 18."
The reality star is the proud mother of six children. Apart from Kash, she has welcomed Brielle, 21, Ariana, 17, KJ, six, and twins Kaia and Kane, five. Kim has shared several images of her children on social media, what has attracted a lot of attention from her followers.
BACKLASH OVER ANOTHER PHOTO
One of those photos showed Kaia and Kane posing adorably together, but some fans noticed that the pic was digitally altered. In the pic, little Kaia was wearing a red and white plaid crop top, a matching headband, denim cutoff shorts, and strappy sandals while standing next to her brother, who's wearing black from head to toe.
The now-deleted photo seemed to be an honest portrait of the siblings at first sight, but after Brielle Biermann, Kim's eldest daughter, posted the same picture to her Instagram stories, fans noticed that there were some differences in the pics.
Comparing the photos side to side, people noticed that Kim seems to have photoshopped her photo to make Kaia's nose smaller and her butt bigger.
"He is such a BIG BOY."
The background of the picture also looks distorted around the girls' bottom, which confirmed fans' suspicions.
People were fast to fill Zolciak's comment section calling her out for changing her daughter's appearance to make her look more "sexually appealing" at her little age.
Please fill in your e-mail so we can share with you our top stories!