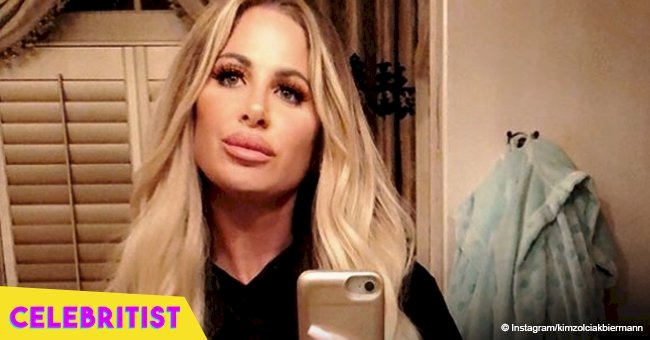 Kim Zolciak-Biermann slammed for allegedly photoshopping her 4-year-old daughter's face and body
Kim Zolciak-Biermann is being accused of photoshopping a photo of her youngest daughter Kaia to make the girl look more sexually appalling. Fans are raging on social media and calling the reality star a sick individual.
The former "Real Housewives of Atlanta" star is known for getting surgeries and being open about it, but when it comes to kids, a line should be drawn. Kim recently took to Instagram to share a pic of her twins, Kaia and Kane, being adorable together, but some fans noticed that the pic was digitally altered.
In the pic, little Kaia is wearing a red and white plaid crop top, a matching headband, denim cutoff shorts, and strappy sandals while standing next to her brother, who's wearing black from head to toe.
The photo seemed to be an honest portrait of the siblings at first sight, but after Brielle Biermann, Kim's eldest daughter, posted the same picture to her Instagram stories, fans noticed that there were some differences in the pics.
THE EVIDENCE
Comparing the photos side to side, people noticed that Kim seems to have photoshopped her photo to make Kaia's nose smaller and her butt bigger. The background of the picture also looks distorted around the girls' bottom, which confirmed fans' suspicions.
People were fast to fill Zolciak's comment section calling her out for changing her daughter's appearance to make her look more "sexually appealing" at her little age. One user wrote:
"HI, you're still disgusting for photoshopping your four-year-old daughter's BUTT and NOSE! Perpetuating your body dysmorphia onto your baby is disturbing."
Other added:
"By photoshopping your daughter, you're basically saying she's not perfect enough for you and one day she's gonna look back at this."
And a third one agreed:
"I'm not hating but photoshopping your daughter's butt and changing her natural nose is so disrespectful towards her and so wrong. It's heartbreaking. Why would you do that?"
THE LIP INJECTIONS
Is not the first time that Zolciak gets slammed for modifying her kids' pictures to make them look different. Earlier this month, she shared a childhood pic of her now 16-year-old daughter Ariana, and after digging on her Instagram account, people found the same picture posted in 2016.
When comparing them side to side, netizens noticed that Kim modified the picture to give her daughter fuller lips.
Some fans theorized that Kim was probably trying to do her daughter a favor by making her lips look fuller in the childhood pic since the teenager was recently accused of having lip injections.
THE "PRAYERS UP" CONTROVERSY
Fans of "Real Housewives of Atlanta" are having a field year hating on Kim Zolciak. After the last season of the show, many people have been picking apart every single Zolciak does, waiting for the tiniest mistake to attack her.
So, when she recently sent her prayers and good wishes for archenemy NeNe Leakes and her husband, Gregg, after the star revealed he was undergoing surgery, fans were not amused at all.
Gregg was diagnosed with cancer a few months ago, and he has been battling the disease with the constant support of his wife. Last week, Leakes shared a pic asking fans to keep Gregg on their prayers as he was about to have a surgery that, hopefully, would be his last for now.
"My hunni is having what we hope and pray is his last surgery towards a full recovery today! It will be a long surgery so we are asking you to pray for the surgeon's hands, pray for Gregg's comfort please! Prayers, strength, peace and kindness for myself, his children and family during this time! Amen (come on pray warriors)"
Many celebrities replied to the post, including Tiny Harris, Cynthia Bailey, Kirk Frost, and Malaysia Fargo. Zolciak also joined in on the prayers, but fans slammed her hard for it as they believed she's not honest in her intentions.
According to fans, Kim was "ruining the moment" for the married couple.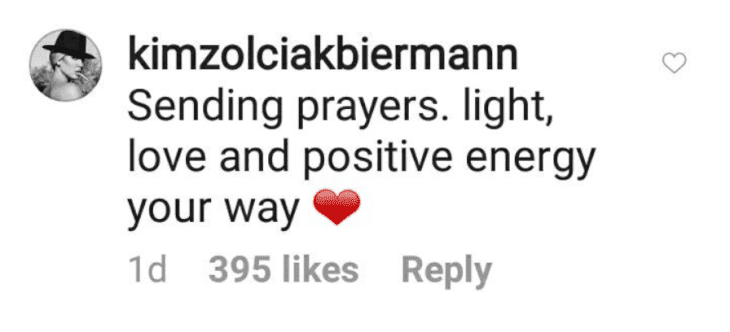 Source: Instagram/neneleakes
"@sexyyrrek: @kimzolciakbiermann you had to hijack this didn't you?!"
"[...] Nene and Gregg will be fine without Kim Zolciak's prayers."
NeNe didn't address the comment, probably because she was busy taking care of her husband.
Please fill in your e-mail so we can share with you our top stories!