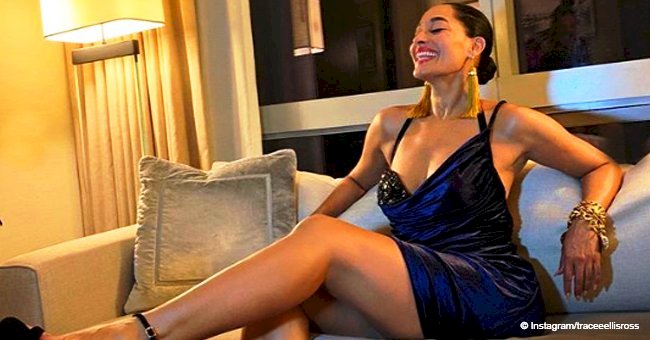 Tracee Ellis Ross leaves nothing to the imagination in Versace mini dress in new photos
Actress Tracee Ellis Ross, the daughter of Diana Ross, took to Instagram to share a slideshow posing in a gorgeous and elegant Versace dress.
The first image of the post portrayed the "Black-ish" star sitting on a white couch with her legs on a table in front of her. Her short, shiny, purple gown was the highlight of the post as her beautiful legs were on full display.
For the second pic, Tracee left only one leg on the table, what gave a better look at her black high heels. The third image showed Tracee in a different pose, focusing in her face and pieces of jewelry.
As soon as Diana's daughter uploaded that slideshow, her followers took to the comment section to share their thoughts. One of them pointed out that her beauty "defies description" while other admitted that she was a "true goddess."
HER SEXUALITY
It was not the first time that Tracee made headlines in 2018. During an interview she had with Glamour, she talked about her sexuality, and the term she found to described it was "sex-positive."
"[For me] the answer to the objectification of women and black women in our culture is not to shut down my sexuality but to own it as something that is mine," confessed the "Black-ish" actress.
HER CAREER AND RELATIONSHIP STATUS
Tracee has become a fan-favorite artist in recent years, and one of the reasons for it might be her unusual career in Hollywood. Even though she worked in projects such as "Girlfriends" as a regular from eight years, the highest peak in her career came after 2014 at the age of 42 when she landed the role of Dr. Rainbow Johnson in "Black-ish."
In 2017, Tracee got her first ever invite to the Golden Globe Awards, where she won a Best Actress award. One of the most interesting aspects of her role is that it is completely different from her real self.
Dr. "Bow" has five children, while Tracee, despite being 46 years old, has not welcomed the first one. Apart from that, she is single, something that doesn't bother her, something that she set clear during her interview with Glamour when she was still 45.
"It's sort of fascinating to be 45 and single and childless. Happily single, I should add. Not at home crying about it," confessed the actress.
HER FAMILY DURING MACY'S PARADE
Recently, Tracee, her brother Evan, his wife Ashlee Simpson, and their children were present in the 92nd annual Macy's Thanksgiving Parade in New York City next to Diana.
Every member of her family wore white winter ensembles to get protection from the record-low temperatures in the parade, a fact that didn't prevent them from having a great time.
The thing that attracted more attention to her presentation was that, unlike the rest of the artists who performed, she didn't lip-synch to "Simply Having A Wonderful Christmas Time." Instead, she emphatically sang the words without even using a mic.
Please fill in your e-mail so we can share with you our top stories!