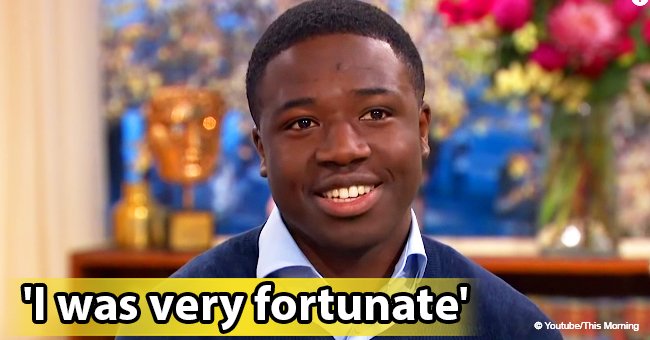 Story of boy who forged a career after knocking on rich people's doors to seek advice is pure gold
An ambitious 17-year-old boy asked one question to anyone who'd open their doors to him in an affluent neighborhood. The result was life-changing.
This teen who grew up in the wrong side of the neighborhood found his way to becoming an accomplished man after knocking on people's doors and asking advice on how to be rich. His story is so compelling and inspiring it tugs at the heart.
GROWING UP ON THE OTHER SIDE OF THE NEIGHBORHOOD
17-year-old Reggie Nelson grew up in a gang-ridden council estate in east London with his mother and an absentee father who died when he was 15. Despite a few run-ins with the law and delinquencies in school, he was determined to carve a better future after joining a church group that encouraged him to make things happen for himself.
INSPIRED BY A TELEVISION SHOW
Inspired by an episode of the late Joan Rivers' US television show "How'd You Get So Rich" where the host asks wealthy people the secret to their success, Reggie devised a plan to knock on people's doors in an affluent neighborhood and ask them the same thing.
KNOCKING ON RICH PEOPLE'S DOORS
After Googling the "richest area in London," Reggie prepared a speech and mustered up enough confidence to march through Gloucester Road in Kensington and Chelsea which he observed, "looked like money."
Reggie recalled first asking passers-by but they turned out to be tourists who weren't much help. Not long after, a man in an Aston Martin told him to study hard and even gave him £40. It was after he knocked on people's doors, some of whom turned him away, that he came upon the home of Elizabeth and Quintin Price, the couple who would eventually make a difference.
A DOOR HAS OPENED
Elizabeth welcomed Reggie to her home after hearing his sincere pitch. According to her, he was "extremely polite and well-mannered" when he said,
"I just wanted to know what skills and qualities you had that allowed you to live in a wealthy area like this so I can extrapolate that and use it for myself."
Elizabeth admitted she was impressed by the guts it took Reggie to knock on people's doors so she invited him in. She also didn't get the vibe that he was there for a handout.
She later introduced him to her husband who was a senior executive at BlackRock, an investment management firm. The couple eventually saw something in Reggie that prompted them to help him. After mentoring him, providing him with opportunities for work and education, Reggie was on his way to becoming an accomplished man.
LIVING HIS DREAM
Today, after four internships and a college degree, he's working at his dream job at an investment management firm in the center of the city. He also mentors young teens at Victory Youth Group in London as a means of paying forward the opportunity given to him by the Prices. Moreover, just by the thought of things wrapping up in full circle, Reggie is setting his sights on a much bigger plan– to purchase his own home in Kensington someday.
Reggie's inspiring story of how a closed door didn't keep him from achieving his dreams reminds us of several doors that were instrumental in making people's lives better. For instance, a mother trying to make ends meet was surprised to find a check on her doorstep after turning down her daughter's request for an ice cream treat because she didn't have the money. Homeless people in North Dakota found a note on a Pizza restaurant's door inviting them for a couple of slices of pizza on the house. Even dogs found comfort when an IKEA store opened its doors for them to keep them warm.
If only more and more people would find time to open their doors to others, the world will be brimming with a lot of happy souls.
Please fill in your e-mail so we can share with you our top stories!