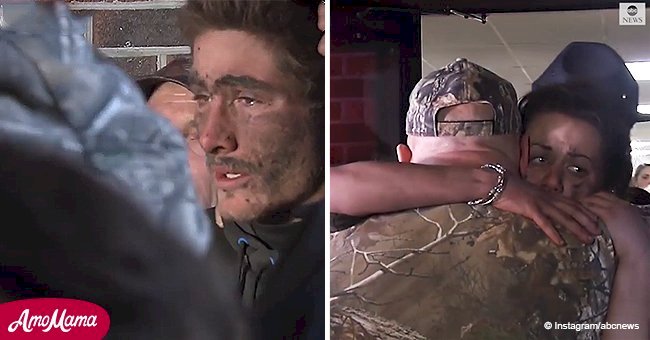 Three missing people in West Virginia were found alive at a non-operational coal mine

After days of searching, families of three West Virginia residents are relieved to find their lost ones alive.
The group of three Raleigh Country resident went off into an abandoned mine on Friday night. Nearly a week later, West Virginia's Office of the Governor website can confirm their health and safety.
Cody Beverly, 21, Kayla Williams, 25, and Erica Treadway, 31, were found in the Rock House Powellton mine in Clear Creek on Wednesday night. They were "battered" but had survived their ordeal.
Follow us on Twitter for more @amomama.
The three adults went without food or clean water while lost in the mine. They drank mine water to stay alive until their rescue around 6:30 p.m.
The inactive mine was shut down two years ago. It is illegal to enter, yet individuals go down there to steal copper wire. One of the survivors' mothers believed that was the three's plan.
Another relative, Kayla's aunt Sandra Scarbro, is just happy they're alive.
She said:
"We got our Christmas miracle. All we really know is she's alive, and we're so thankful that she's out and that they're all out. We appreciate everybody in the community, the governor and rescuers, everything everybody has done."
Another relative, cousin-in-law Lou Ellen Williams, described the family's reactions.
"[We're] just so happy and relieved. I'm tickled that they're all OK. They said they are battered, but they're alive. That's all that matters."
On Monday, 43-year-old Eddie Williams emerged from the mine. Police used him to improve the search. He is reportedly set to be investigated for entering the mine.
The survivors received on-site evaluations from health care workers. They were then sent to the hospital for further treatment according to Samantha Smith, the state's Department of Commerce spokeswoman.
Another rescue was made yesterday in New Milford of New Jersey. Cynthia Frank, 16, was found at Holy Name Medical Center in Teaneck after she went missing on Saturday.
According to Detective Kevin Van Sanders of the borough police, "she was in good health."
An entire Montana family was not so lucky after they disappeared on Thanksgiving day last month. The Dean family were found the day after. They had all died from a car crash.
Their vehicle apparently veered off the interstate near Huntley, Montana. Staff Sgt. Anthony James Dean, his 25-year-old wife Chelsi Kay Dean and their daughters, Avri James Dean, one, and Kaytlin Merie Dean, five, all died in the crash.
Please fill in your e-mail so we can share with you our top stories!