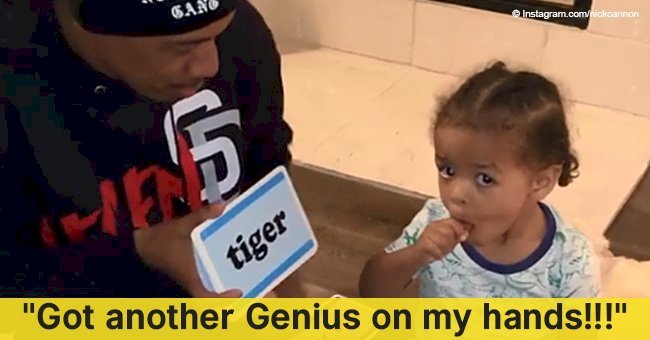 Nick Cannon melts hearts with new video of his 'brilliant' son Golden reading at the age of 1
Nick Cannon just shared a video of his one-year-old son reading and the actor/comedian is using it to respond to Wendy Williams' earlier "disrespect" of the boy.
A couple of hours ago, Nick took to Instagram to show off Golden Cannon's brilliance. Golden is his son with his ex-girlfriend, Brittany Bell, and Nick couldn't be prouder of the little "genius."
The clip shows Nick at home with Golden. Father and son are seated on the floor, and the little man is super adorable in pajamas and a cornrow hairstyle. The "Love Don't Cost A Thing" alum holds up different word cards to Golden who correctly pronounces each word: "Brown," "Polar Bear," "Tiger."
"What sound does a Tiger make?" Nick asked, prompting a very pronounced "Urrrr" from Golden. He even demonstrated the animal's paws with his hands.
A proud Nick gushed over his son in the caption, but he also used the opportunity to throw a classy clapback at the talk show host, Wendy.
"Got another Genius on my hands!!! The Golden Child! No oops over here @wendyshow LOL. My guy is brilliant! Reading at the age of 1!! #Genius."
"THE DISRESPECT!"
Wendy sparked outrage online earlier after referring to Golden as an "oops baby" on her show. Nick had stopped by to discuss his new show and an array of other topics when Wendy asked about holiday plans for his three children.
"You're spending the holidays sleigh-riding from one house to the other," she said, referring to the fact that Nick also has two children with his ex-wife, singer Mariah Carey.
Besides a charity trip to Haiti, Nick confirmed:
"I'm Saint Nick for real, obviously I have an extended family and I'll be visiting them in many houses over the holidays."
Wendy then asked about his two children with Mariah, but when it came to Golden, she called him an "oops baby."
Nick was taken aback by the remark but handled it maturely. He clutched his chest in mock horror and gasped:
"The Disrespect!"
CALM & CLASSY
Now, the father-of-three has delivered an appropriate response, and his fans in the comments section are hailing him. Instagram user @ iistarr1988 cheered:
"So proud of you! that is a smart boy, Wendy Williams the nerve, u handled it with class."
Nick and Brittany, who is a former beauty queen, welcomed Golden in February 2017. The former "America's Got Talent" host also shares seven-year-old twins, son Moroccan and daughter Monroe, with his ex-wife, Mariah.
Please fill in your e-mail so we can share with you our top stories!