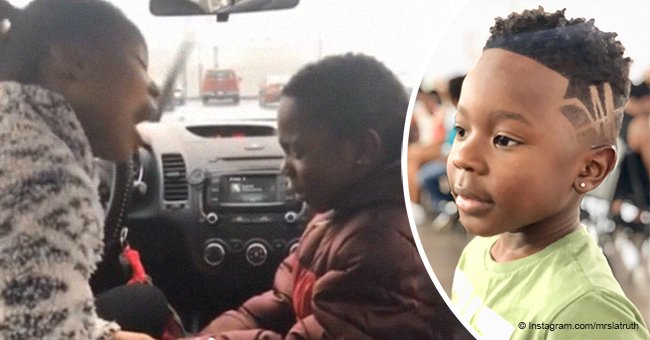 Mother's heartwarming response to son's complex about his black skin goes viral

Briana Hampton learned that her son, Isaiah, was sad because some of his classmates had been teasing him about the color of his skin, so she found a way to make things better.
In a two-part video shared on her Instagram account, Briana and her six-year-old son appeared in a car with the 2016 hit song "That's Why I Love You" by Major playing.
The proud mother held Isaiah's hand and, looking directly at him, she started singing the lyrics. A couple of seconds after that, the boy started crying, letting go all he kept inside over the bullying.
EXPRESSING HER FEELINGS
"This is why I love you," sang Briana while caressing her son's chin. At the end of the video, the lady hugged Isaiah in the most adorable way to let him know that everything would be just fine.
In the caption, Briana explained that she and her husband always tell their son that he is handsome and that the children who bully him only do it because they "are mad [they're] not you."
"Today I found the perfect song to tell my son how much i love him! I love you Isaiah your handsome and chocolate. The lady's love chocolate men too. Ain't that right ladies? [sic]," wrote Briana.
Soon after she uploaded that clip, it went viral, and several people started sharing their thoughts on it. One of them was Instagram user Quinton Phillips, who even recorded a video and sent it to Briana and Isaiah. In it, he advised the boy to walk with his chin up and be proud of his color as he is a "beautiful, handsome" child.
DEALING WITH BULLYING
It is not the first time that a bullying story goes viral. Matt Cox, a father from Ohio, learned that his 10-year-old daughter was teasing another student on the school bus, so he decided to do what he considered it was the best way to make her understand how bad bullying is.
"So today, my beautiful daughter is going to walk five miles to school in 36 degree weather. I know a lot of you parents are not going to agree with this, but that is alright," said the man in the video, who explained that she had been kicked out of the school bus twice for the same reason.
While several people praised him for handling the situation cleverly, others considered that his "tactic" was too drastic and even labeled it as "dangerous."
Please fill in your e-mail so we can share with you our top stories!