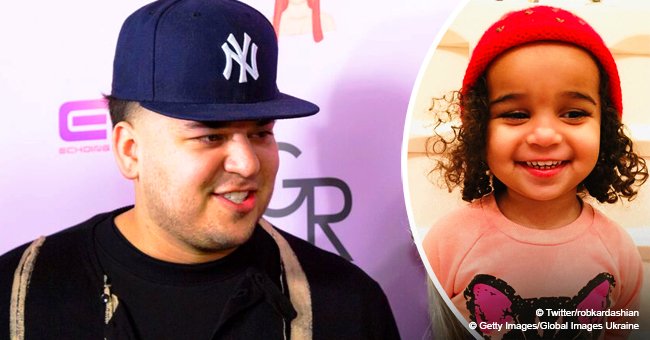 Rob Kardashian shares new photo of growing daughter Dream in red hat with adorable curls
Rob Kardashian rarely shares about his personal life on social media, but when he does, he drops the most adorable photos of his daughter Dream. Recently, he shared a photo of his daughter looking all grown up in a red hat that accented her adorable curls.
It seems as if it were only yesterday that Rob Kardashian and Blac Chyna happily welcomed their daughter Dream into their lives. Two years later, their daughter is an adorable little toddler who has grown up to look more and more like her dad.
Although both Blac and Rob barely post about their daughter on the internet nowadays, the rare occasions that they do makes everything all the more special.
Rob took to Twitter to share just how big Dream has grown, wearing a huge happy smile as she sported a red knit cap. Her dark curls laid flat under her beanie, and she was dressed in an adorable pink top with a butterfly print on it.
While Rob and Chyna had a really bitter split, they never let this affect the way they treat their daughter, and both of them make sure that she gets nothing but the best. Of course, the Kardashian clan has been extremely supportive of the way Rob has been raising Dream, even making sure that she gets to spend as much time with her famous cousins as she could.
Just as any dad would do, Rob makes the most out of his time with Dream, especially since she has to split her time between both him and Chyna. That is why whenever they can, they go on the most epic getaways to get to know one another more and to enjoy their time together.
Please fill in your e-mail so we can share with you our top stories!