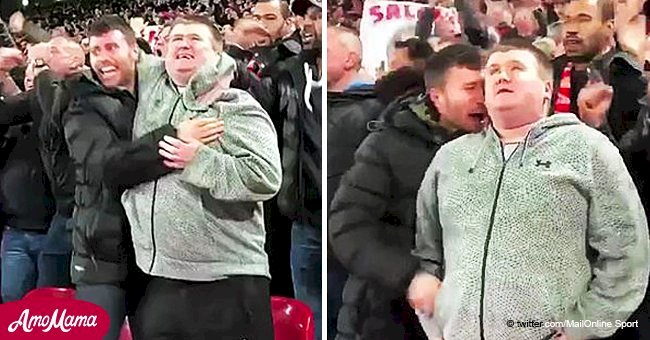 Touching moment fan explains vital goal against a soccer team to his blind cousin
A heartwarming video of a Liverpool Football Club fan caught on television camera explaining a goal to his blind cousin has taken the internet by the storm.
Liverpool's star player, Mohamed Salah, eased the fans' tension by scoring an important winning goal against their UEFA Champions League opponent, Napoli. While the entire stadium erupted in loud celebrations, there was one fan who wasn't entirely sure what was going on.
26-year-old Mike Kearny is a registered blind, who has attended Liverpool's every home game for the past five or six years, according to SPORTbible.
Kearney further revealed that he enjoys crucial moments in the game at Anfield, Liverpool's home turf, through his cousin's interpretation.
Follow us on Twitter to learn more.
"I'm registered blind I have got Retinitis Pigmentosa, it's a degenerative condition. It's got worse as I've got older, thankfully it's a bit more stable now but it's not the best," Kearney told SPORTbible.
Kearney explained that his cousin often explains the key moments and he enjoys celebrating and shouting with everyone else.
"My cousin was explaining to me who scored. To be honest it's just a normal experience of football for me. I join in with the singing and shouting and celebrate as anybody else does. I can see bits of the game up close."
The devoted Liverpool fan further stated that it is often not very hard to work out what was going on in the field and he always has a cousin or some other friend to tell him about it.
posted the brief clip of the celebration highlighting how such moments made soccer a "beautiful game."
Kearney later replied to the tweet explaining how it was his cousin who told him about the goal scorer. He also revealed that they had no idea that the TV camera had caught them.
When the Santa knew about the boy's condition, he got down on the floor so that the boy can feel the softness of his Santa suit, beard, and wrinkly face.
Please fill in your e-mail so we can share with you our top stories!