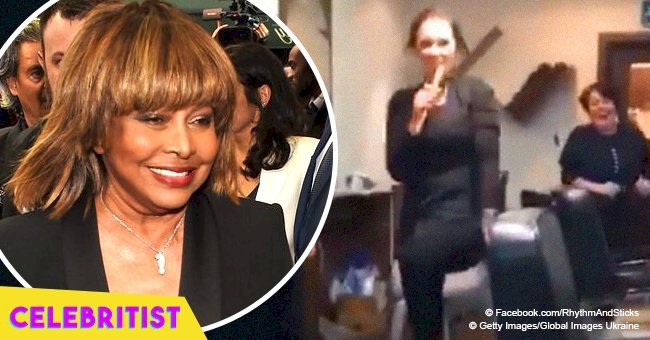 Hilarious moment when barber shop staff danced while having Tina Turner sing-off went viral in 2018

Ever wonder what happens when you channel your inner Tina Turner? A team of barbers at a local barbershop showed us precisely what it looks like.
Talent is everywhere, and in a barbershop, you're bound to find more than hair-cutting skills. That's what we found out when the staff of Jackie's Barbers challenged a local band's lead singer to an epic lip sync battle.
The band's lead singer, Emmet, got into the barbershop that day with the intention of getting a haircut. Unknown to her, she was about to get something more.
It was a hilarious experience which produced a lot of online reaction. Even the grumpy weather outside Jackie's Barbers in Cavan could not deter them from a fun time inside.
"Proud Mary," an old classic from the Queen of Rock & Roll, Tina Turner, is a regular on the playlist of the staff at the barbershop.
However, that day was going to be different as the staff and customers were thrilled to a sing-along performance. The video was posted in November of 2018 and wasted no time spreading like wildfire.
In the clip, Emmet Flood of "Rhythm & Sticks" was captured in a dance-off with the staff of the barbershop. The group is known for their energetic shows and performances which have held all over Ireland since 2014.
Their original tracks, "Between the hours of 2 & 4" and "Murphy," have been hit songs on TV and radio.
The viral video was posted on Rhythm & Sticks's Facebook page with the caption:
"Send Emmet for a haircut and this happens. Jackies Barbers #notsurprised #borntoentertain."
The post has since garnered over 9000 views and 40 shares.
This is not the first time the band is breaking the internet with something viral. They have a standing reputation for their exploits on social media.
The staff at Jackie's Barbers, however, was the one that stole the show. One of them, Jackie, felt quite overwhelmed by all the reactions from netizens and couldn't help confessing:
"I've been well laughed at. Can't get any worse at this stage."
Please fill in your e-mail so we can share with you our top stories!