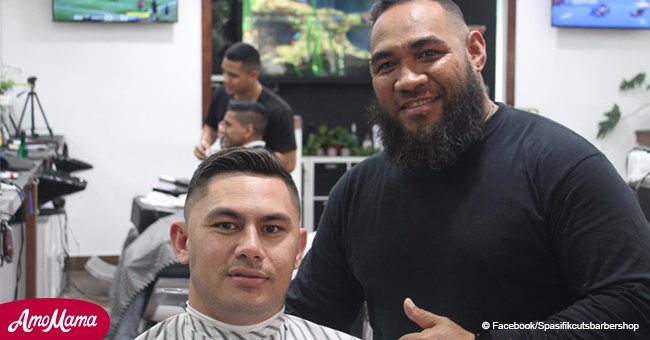 Homeless man who slept in a barbershop for 6 months returns after a year completely changed
Barber Nicky Pati opened up about how he had helped a homeless man turn his life around years ago. Recently, the man came back to Pati's shop to thank him.
38-year-old Pati offered his Slacks Creek barber shop to a homeless man he only knew as "Vinnie" for six months. Pati gave him a place to stay while he was trying to get back on his feet.
In 2015, Pati met Vinnie while strolling in a park in Browns Plains, Queensland.
Speaking with Courier Mail, Pati recalled seeing Vinnie with a suitcase, and he decided to come up to him and have a chat. Since then Pati would go to Vinnie after work and give him food and "just chill" with him.
Follow us on Twitter at AmoMama USA for more details and updates.
"One night I went to see him and the police were there to arrest him. I told the police I was there to pick him up and I opened up the shop," said Pati.
He opened up his shop for Vinne and gave him a temporary home while he figured out his next move. The barber also gave Vinnie odd jobs at the shop, and he would give him $50.
"I'd give him $50 for that and he'd come back later on and give me presents that he'd bought with that money, a T-shirt or pair of shorts," he shared.
Pati gushed at how Vinnie had such a big heart despite his struggles.
It had been two years since Vinnie left his shop and Pati never ran into him again until two months ago.Vinne walked inside his shop, looking well-dressed and happy. He wanted to say thank you to the barber who helped him get back on his feet.
Pati shared, "He showed me his car, he had some nice clothes on. He's got a job and a house now."
As for Pati, he said it's hard for him to talk about the way he has been helping people since he doesn't want to take credit for their efforts.
"I don't want to brag about something I did to help someone. I think if everyone does their one percent then the world would be different," he explained.
Now, Pati had been working hard with his new initiative called Barber Talk, where he gives free haircuts to homeless people once a month.
He also provides free health checks, food, care packages, and bus service for them with help from friends and organizations.
The barber shared that he recently cut a homeless man's hair. Before living on the streets, the man used to run his own business.
Pati said, "After that haircut he turned around and said 'I haven't seen that man in a long time.' That 20-minute haircut can have a massive impact."
Meanwhile, in another story, a homeless veteran gave up his last $20 bill to help a woman who was stranded after running out of gas. She and her boyfriend decided to help the veteran get back on his feet for his good deed.
It wasn't long until hundreds of thousands worth of donations poured in for the homeless man. Although, previous reports claimed that it was all a scam and the trio are facing charges for fraud.
Please fill in your e-mail so we can share with you our top stories!