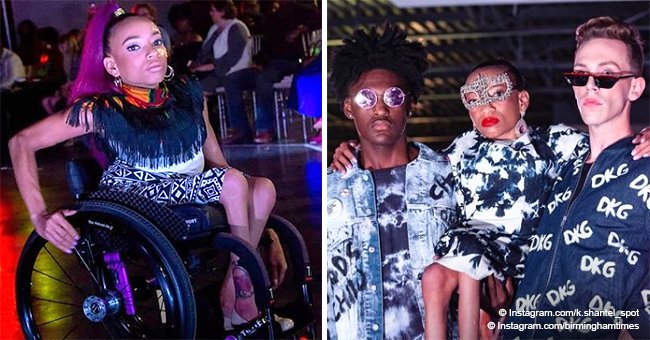 Meet the woman who can't walk but broke barriers to hit the runway and realize her modeling dreams
This 28-year-old woman is strapped to a wheelchair but she's a model, athlete, entrepreneur, and has two college degrees. Learn about her amazing story of conviction and passion to push her boundaries.
Karneshia Patton is a woman who proved her disability doesn't translate to her inability. Born with a birth defect called spina bifida, she overcame the hurdle of being paralyzed from the waist down by excelling in fields no one ever thought she could tackle.
ON BEING A MODEL
Patton is 28-years old and has achieved so much despite her paralysis. Her condition which affects the development of the spine and spinal cord strapped her to a wheelchair her whole life but that didn't keep her from reaching for her dreams. One of which is becoming a model.
In 2015, Patton wheeled through the runway in her first fashion show. It was for a movement called Living Out a Dream. Her modeling started when she was approached for a photo shoot and she fell in love doing it. Then she attended more model calls and was entranced by the fashion world. She recalled being nervous during her first fashion show but was pacified by the smiling faces of the audience.
A PASSION FOR SPORTS
Besides modeling, Patton is also interested in sports. She tried out for wheelchair tennis in junior high but was denied the opportunity because they thought she'd be hazardous to other players. Then she shifted her sights to basketball and began playing for her high school's junior league. Now she pays for Birmingham's Lakeshore Foundation and the Rolling Hornets of North Carolina.
NOT JUST ONE, BUT TWO COLLEGE DEGREES
In college at the University of Mississipi, she took up nutrition and earned a Bachelor of Science degree. But that's not all she aspired for. She went on to study nursing in Birmingham at Sanford University and earned a degree too.
GETTING INTO THE NAIL BUSINESS
But despite the two degrees tucked in her belt, Patton saw herself working on her own. So she went to nail school and soon became a full-time certified nail technician with her own regular clients making her an entrepreneur in her own right.
STRUGGLES ALONG THE WAY
Patton's resume is quite impressive considering her disability. But she admits it wasn't easy getting to where she is. As early as middle school, she was already faced with bullies who got to her self-esteem. This prompted her to divert her attention to working out. She recalls lifting herself with pull-ups and managing a maximum of 10.
She also said there were days when she resented her wheelchair because it posed as a hindrance to her day-to-day tasks like going to a place that has no access to it. She admits It takes a change of mindset for her to deal with her frustration and accept what she can't change. And that's how she overcomes periods when she's reminded of what she can't do.
HOW THE WORLD SEES PEOPLE LIKE HER
Patton is grateful that nowadays there are more opportunities for women like her.
"I would say that as far as diversity inclusiveness goes in the disabled community, people are getting better at recognising us, knowing that we are here.
"They see that we are not just at home, not just trying to stay away from the outside world. There are more of us that are getting out there, telling our stories."
We're glad to be sharing Patton's story because she's not just an inspiration to those with a disability but even those who don't have a disability but are achieving way less than her.
ANOTHER INSPIRING STORY OF DETERMINATION AGAINST THE ODDS
Her story reminds us of another man who lost both his legs at 18 months and only has two fingers in his right hand and one in his left. Incredibly, he's a master musician who plays the piano, trombone, and keyboard. His name is Darius Simmons and he went viral because of a piano piece he played with his deformed hands. Many couldn't believe a man with a hand deformity could be good at a skill that relies heavily on it. But Darius, who his mother said grew up believing he can, challenged himself and broke barriers. See the clip that blew internet users away.
Please fill in your e-mail so we can share with you our top stories!