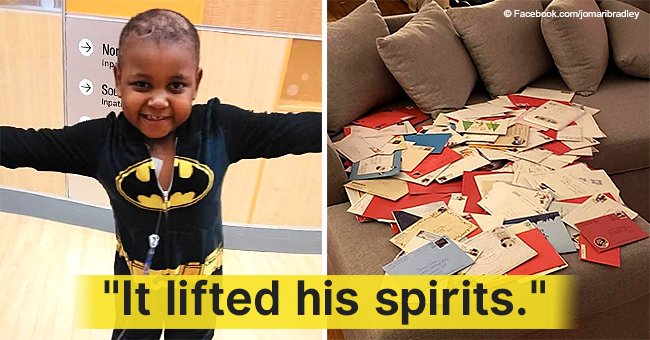 Boy, 6, was feeling low after cancer diagnosis, gets hundreds of Christmas cards from strangers
Jomari Bradley is a real-life superhero that has been battling brain cancer for more than a year now.
The process has been tough for the little boy, so his family decided to request people to send him some love and encouragement in the form of Christmas cards.
The response has been amazing so far. The 6-year-old was diagnosed in August 2017 with anaplastic ependymoma, a form of brain cancer that has no cure.
He has undergone two brain surgeries, two additional surgeries to release pressure on his brain, and radiation treatment. He is deaf in one ear and is attending physical and speech therapy.
Last week, Jomari had his last radiation session, but there's no way of knowing for sure if the treatment worked for a few more weeks.
Going through such a mentally and physically draining process can be too much for a child, and Jomari was starting to feel down.
That's why his uncle decided to make something to lift the boy's spirits. So, he made a Facebook post asking friends and strangers to send letters to the kid for Christmas with some words of encouragement and love.
AN OUTPOUR OF LOVE IN THE FORM OF LETTERS
Soon, the word spread out, and thousands of people from all across the globe joined the cause. Jomari has now received more than 600 cards on the first days of December, and he couldn't be happier about it.
The first letter arrived on December 3. "We opened the card together. He got a little gift that came with it," Doneshia Lee, Jomaris' mother, told People.
"He was happy about that. Then the next day we got like 17 cards, then the day after that we got like 300 cards! Every day since then it's been about 250 to 300 cards."
The letters are now something that the boy looks forward to every day. "He was shocked. He was surprised in a good way because he wasn't expecting it.
He was happy about it. Every day I got to the mailbox he asks, 'Did I get any mail today?' " Lee said.
"I was super happy and super excited I felt the love and support. There are really good people out here that support him. It amazes me."
Along with the letters, Jomari has received photo edits of him with his favorite superheroes, some Avengers toys, video messages from a Batman impersonator, and other little Christmas gifts that are making of the holiday season a happier one for him.
Doneshia is grateful for the outpour of love her family is receiving. She said that Jomari's illness had been a test of faith for her family, but she's standing strong through it all for her son.
"No matter how tired I am, no matter how sick I am, I just have to keep going," Lee told in between tears.
Those interested can send cards to 1400 Chicago Avenue, Cincinnati, OH 45215.
MORE CHRISTMAS CARDS
On a similar note, a 3-year-old boy fighting leukemia also got thousands of Christmas letters after his mother asked people to send him some love.
Tavish McCosh, from Ellensburg, Washington. He's been battling leukemia at the Ronald McDonald House in Seattle for the past two months, and despite his illness, the little boy is always looking forward to having a good time.
According to his mother, Maren McCosh, Tavish is always checking the family's mailbox, hoping to receive a card from someone.
It was just a bit of a game for the boy, but Maren decided to ask friends and family to send Tavish some letters.
Soon, as it happened with Jomari, the word spread and the 3-year-old was receiving thousands of letters and boxes from strangers.
"It's amazing. It's really really kind of all these people to take time out of their lives to send him some cards that really make his day," Maren said. "A little kid who just wants to see mail in his mailbox."
Please fill in your e-mail so we can share with you our top stories!