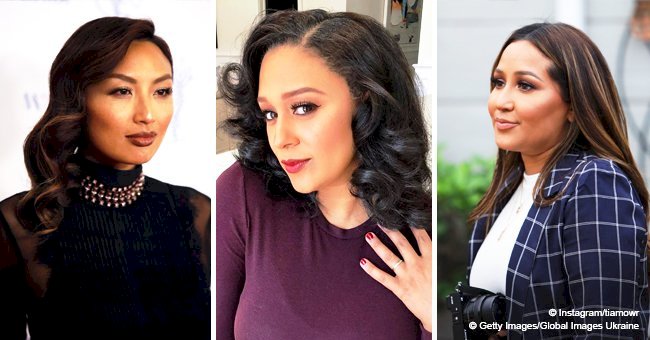 'The Real's Jeannie Mai & Adrienne Houghton allegedly at war with Tamera Mowry over her higher pay
The ladies of "The Real" are not as happy with each other as everyone thought, according to recent claims from an insider.
All is allegedly not well among the four co-hosts of Warner Bros' hit Daytime talk show, and it has to do with money.
A source close to the show told Daily Mail that Jeannie Mai and Adrienne Houghton are feuding with their colleague, Tamera Mowry-Housley, because not only does she earn the highest pay, but she also refused to help them demand for a higher salary.
Loni Love, who earns the highest after Mowry-Housley has also reportedly refused to help Mai and Houghton, but it appears the biggest beef is with the "Sister Sister" alum.
The insider claims that Mai and Houghton started complaining about their salaries after the ladies won an Emmy in April. They planned to stage a walk-out, but things got worse after they realized Mowry-Housley and Love were not ready to support them in their quest.
They even started mocking the pay discrepancy among them by referring to their co-hosts as "The Have and The Have Nots," a play on Tyler Perry's primetime soap opera on Oprah Winfrey Network.
Mai and Houghton's agitations were seemingly justified last month when the show recorded its highest growth in more than a year while Mowry-Housley was away.
The 40-year-old host was absent for two weeks because she was mourning the death of her husband's 18-year-old niece, Alaina Housley, who was one of the victims of the Thousand Oaks mass shooting.
The source said:
"Both girls kept saying, 'How's she making the most money and the show is doing better without her being here?' That gave them the leverage they needed to justify their ask for more money."
The ladies are also reportedly displeased with Mowry-Housley for her reluctance to acknowledge her Republican beliefs and support for the highly controversial American president, Donald Trump.
Fans of the show will recall a tense exchange that played out on air between Mai and Mowry-Housley in September. The anchors were discussing the sexuality of Sesame Street characters when they had a clash of opinions.
According to the insider, however, the argument "had everything to do with the drama going on behind the scenes."
"The ladies of The Real don't speak behind the scenes until they hit the stage door to come out," added the source. "They play girlfriends on TV, but in real life, their relationship is strained to say the least."
Daily Mail reports that a spokesman for "The Real" declined to comment, but since the show has been renewed through 2020, fans may have to wait and see what happens eventually.
Please fill in your e-mail so we can share with you our top stories!