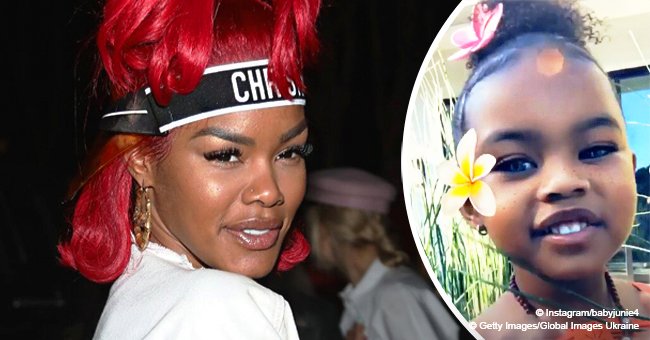 Teyana Taylor's 3-year-old daughter steals hearts with her singing in recent adorable video
Actress and singer Teyana Taylor took to Instagram to share a slideshow of her daughter, Junie, doing what she does best: entertain her mother's fans.
The first part of the post was a video showing Junie singing Auli'I Cravalho's hit song "How Far I'll Go" from the Disney film "Moana." The girl was wearing an orange outfit with a pink flower clip on her hair.
When the song ended, the woman recording, who is very likely to be Teyana, cheered her, but Junie wanted to do it once again. In the second photo, the girl's outfit was portrayed in full display. She was wearing Moana-like clothes, including the blue necklace.
As soon as that slideshow hit Instagram, people took to the comment section to share their thoughts. Most of them pointed out that Junie was gorgeous, that her personality was "awesome," and that she was a star already.
BIRTHDAY VIDEO
On December 16, Junie turned three, and Teyana uploaded a very touching video on her Instagram page that got her followers crying. It was a compilation of short clips and images of the entire family, including her husband, Iman Shumpert.
While the images were remarkable, the highlight of it was the 911 call that the NBA professional player did when Teyana gave birth. At eight months, the singer went into early labor, so Iman had to deliver the baby with his bare hands at their house.
Iman's overwhelming emotion was evident as he was telling the 911 operator what had happened while trying to follow the instructions. At the end of the clip, the operator is heard saying "congratulations" when he heard that the couple had a healthy baby girl.
GETTING ON STAGE
In a video that Teyana uploaded to Instagram a few months ago, the singer appeared in the middle of the stage when Junie walked onto the stage next to her mother. Once there, she started waving hello at the crowd, proving that she is not shy at all.
Teyana put the mic close to the girl, and she said something. The audience erupted in cheers, but the girl had something else prepared. When Teyana put the mic in front of her again, Junie surprised everyone.
Both of them started singing, but then the girl held the mic, walked away from Teyana and closer to the audience, and kept singing alone. Junie was even waving at the camera while Teyana "passed out" in disbelief behind her. A member of the audience stood up and hi-fived the toddler as a way to praise her for her fearless action.
Please fill in your e-mail so we can share with you our top stories!