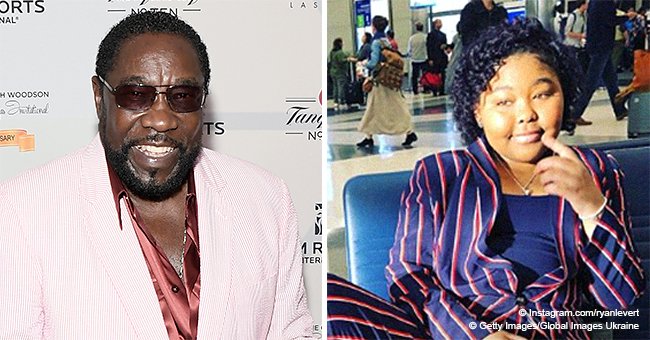 Eddie Levert's youngest daughter is now 16 & looks grown up in striped suit in new photos
Ryan Levert, the 16-year-old daughter of singer and actor Eddie Levert, took to Instagram to share a slideshow posing in a striped outfit.
In the first image, the girl appeared sitting in what seemed to be an airport. She was wearing a navy outfit with red and white vertical stripes all over it. Apart from that, she put on sunglasses that gave her outfit the last chic touch.
The following two images showed Ryan in different poses, setting clear that she could easily embark in a modeling career.
Even though some people might get confused and assume that Ryan is Eddie's granddaughter, she is actually his daughter from his marriage to Raquel, to whom he tied to knot in 2005.
FOLLOWING IN HER FATHER'S FOOTSTEPS
A few years ago, Eddie revealed that Ryan was getting ready to follow in her father's footsteps and become the next generation of Levert performers. The man said that Raquel was doing "everything she can" to keep her down.
"She's got the whole thing. She's got whole attitude and the expressions and all of that. I just did a new CD, and we did a song called 'Stupid People.' That's her title. Me and her wrote it, and I put it on my CD. We're talking about how people are running around shooting each other and doing all these crazy things [sic]," admitted Eddie.
Source: Getty Images
THE FATE OF OTHER LEVERT ARTISTS
Ryan would not be the first member of the Levert family who embarked in a musical career. Two of Eddie's sons, Gerald and Sean, joined their father and released several albums that went platinum several years ago.
Unfortunately, Gerald lost his life due to interactions between his prescribed medications in 2006. Only two years later, Sean also passed away. While serving a 22-month prison sentence for failing to pay child support, he started experiencing high blood pressure and hallucinations.
On March 30, he was pronounced dead. The Cuyahoga County said that his passing was caused by complications from sarcoidosis after being denied needed prescription medication (Xanax).
Eddie revealed that there had been some drama in the family after his sons' deaths. "If you don't include everybody in the family, you get a lot of flack from these people. Everybody thinks they deserve to get paid, too … You know, B.B. King's kids, James Brown's kids, it just goes on and on [sic]," revealed the singer.
Please fill in your e-mail so we can share with you our top stories!