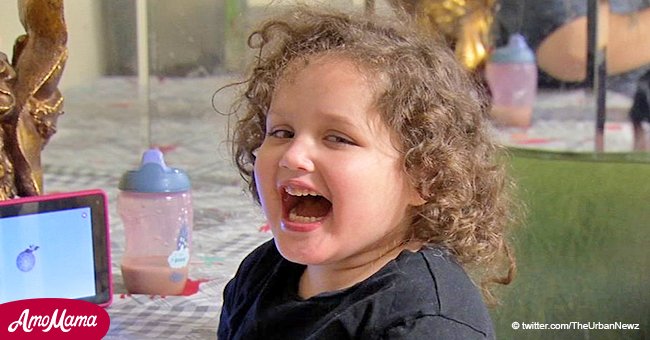 Family of terminally ill 4-year-old girl asks neighbors for prayers and holiday cards
A family from Fresno, California, is asking people for prayers after their little girl was diagnosed with an incredibly rare and deadly disease.
Crimson Barnett, as the four-year-old is called, was born with Diffuse Intrinsic Pontine Glioma, also known as DIPG, an illness that attacks the brain stem.
As reported by KFSN-TV, doctors revealed that her tumor is inoperable because it is located in a spot that affects all major motor functions.
Follow us on our Twitter account @amomama_usa to learn more.
A HIGHLY AGGRESSIVE CANCER
DIPG has an incredibly low median survival rate off around nine months, making the disease one of the most devastating pediatric cancers known to medicine.
It has also been shared that, without any way to remove the tumor, Crimson won't have more than four or six months left to live, a piece of information that has taken a toll on the rest of the family.
A HEARTBREAKING STORY
Her grandfather, Ron Huffman, claimed that they are currently trying their very best to cherish every moment with Crimson and giving her the best life possible.
Since the four-year-old won't be around for much longer, the family wants to provide her with an environment full of love and positivity, which is why they made a public plead.
The family is asking people to pray for Crimson and to please send letters, as well as postcards, to the little girl so they can read them to her during the holidays.
AN ALMOST IDENTICAL STORY
Crimson was diagnosed with DIPG back in November, around the same time Reece Robert, from England, was diagnosed with the same illness. Reece's mother, Jenna, couldn't believe what was happening.
"I collapsed when I was told that. I felt like my heart had been ripped out. It was a horrible feeling. I just started screaming 'no, no, no.' I couldn't breathe. It's the worst thing any mum can be told."
Jenna Robert, Mirror, December 13, 2018
Much like Crimson, Reece's family is determined to make him feel like the most special child in the world and Jenna vows to make her little boy as happy as possible in his last six to twelve months on earth.
Please fill in your e-mail so we can share with you our top stories!