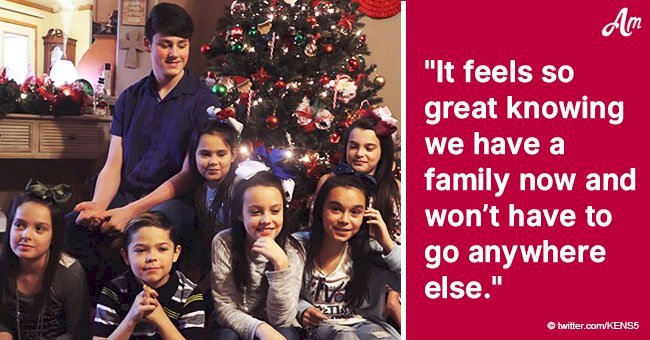 Couple adopts seven siblings to give them a forever-home right before Christmas
Many children expect that their good behavior during the year is enough for Santa Claus to shine with the gift they have longed for all their lives.
But certainly, some only ask for a father and a mother whom they can call "dad and mom", or have a meal and a safe roof every day. It seems like a movie, but it is what hundreds of children suffer when they have lost their parents or have been abandoned.
They confess that those were definitely not their initial plans; they had decided to welcome 2 of them into their home temporarily, but nothing more. Read more on our Twitter account @amomama_usa.
Michael said that they always had a full house, initially with at least two foreign students, in addition to their 4 biological children who are now adults, and then receiving younger foster children. "Our first words were: OK, we will do it for a couple of years, but we will not adopt," said Terri.
The couple welcomed the siblings Korgen and Haizlee in April, but when they realized what the brothers had suffered after moving from one family to another in foster homes, and sometimes without a permanent roof, they decided to adopt them all.
The process of adoption of the siblings was long, but on December 3, finally, a judge approved the official adoption of all of them. The children had stayed 1035 days in different foster homes until finally they were all adopted together.
"It feels good to have a family to wake up in every morning," said Kyndal Hawthorn, one of the sisters.
The children really could not believe that their dream had come true and it was they themselves who wanted to tell their story to the media to sensitize other couples of the great good that can be done by adopting.
The children could not help but be excited to think that they will finally be able to call their parents "dad and mom" this Christmas and that they have a real family.
They told how difficult their childhood was, in which they lacked the things that some people take for granted. "When I got here I said: Oh, my God, we have our own beds," Layna said.
The Hawthorn said that many people told them that seven brothers were too many to adopt, but they moved on.
"This is a blessing, they are a blessing. Every day, these children wake up and laugh and feel happy, and you see the smiles on their faces, that's what makes it all worthwhile."
"This has been the best Christmas I could have, knowing that I have a father and a mother," Kyndal said.
It is totally moving that a couple has dared to take the step of giving these children a second chance. They deserve all the happiness of the world, and this Christmas will undoubtedly be burned into their hearts forever.
Paige shared the video on Facebook and it quickly exceeded 4 million views. Now, more than 10 million people have seen the video of one of the sweetest moments in the girl's life.
Please fill in your e-mail so we can share with you our top stories!