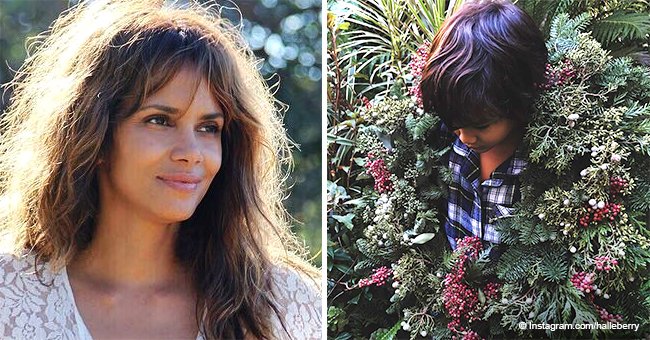 Halle Berry captures hearts with adorable photo of her son wearing Christmas wreath as a necklace
Halle Berry is melting hearts with a pic of her 5-year-old son Maceo wearing a huge Christmas wreath as a necklace. The family is ready to enjoy the holidays, and fans are hoping for Halle to share more pics of her kids in the upcoming days.
Halle Berry loves to share tidbits of her life with her fans through Instagram. From her exercise routines, her downtime with friends and her most intimate thoughts on the shower or in the wild, the "Cat Woman" actress tries to be as open as she can to feed the connection with her followers.
However, one part of her life that she always kept away from social media were her children. Maceo, 5 and Nahla, 10, whom she shares with exes Olivier Martinez and Gabriel Aubry, respectively.
It was a choice that Berry took early on her kids' life. Knowing how damaging comments can be on social media, the protective mother decided it was for the best to keep the identity of her kids away from the public.
She used to share shots of the kids' backs, side profiles, and smiles, but never a full face shot. However, the 50-year-old had a change of mind back in the summer, when she delighted fans with a picture of Maceo while on vacation, and his face is almost in full view.
A CHANGE OF HEART
Talking to Extra about what drove her to share her boy's face, Berry confessed that it was a struggle. "I really don't like to show my kids very much, but I do realize my people are solid for me — and me for them — and sometimes I feel like I want to include them," she explained.
She added: "It's a fine line because I don't want to exploit my children. I want to protect my children, so I thought, 'Half the face is good.'"
Since then, Berry has been trying to share more pics of the kids, and while still struggles to share a full-on face shot, the actress is taking little steps.
In one of her most recent photos of Maceo, the little boy is standing in the middle of a giant Christmas wreath. Literally. It seems like he was using the wreath as a necklace, donning in his blue plaid pajamas and look serious and his mom snapped the pic.
"Believe in the magic of Christmas," Berry captioned the adorable shot.
Fans took over Halle's comment section to gush about the little boy. "That's cute, kids are precious at that age, enjoy them while you can because they grow up so fast," wrote one user. And another added, "Maceo has become a human Christmas tree! Your son is very handsome!"
HOLIDAY FANS
Halle and her kids love traditions and holidays. Back in October, when Maceo turned 5, they celebrated with a spooky themed party, where Halle and her ex reunited to celebrate their boy, proving that there's no bad blood between them.
For Halloween, the actress shared a pic of decorated pumpkins on her garden, stating that her house was a "Halloween-friendly household."
Then, on Thanksgiving, she melted hearts with a pic of Nahla and Maceo playing together in their garden. "Eternally grateful for what really, really matters," the actress wrote.
Halle recently wrapped up the shooting of "John Wick 3: Parabellum," the third movie of the sage starred by Keanu Reeves that will be released in May 2019.
Please fill in your e-mail so we can share with you our top stories!