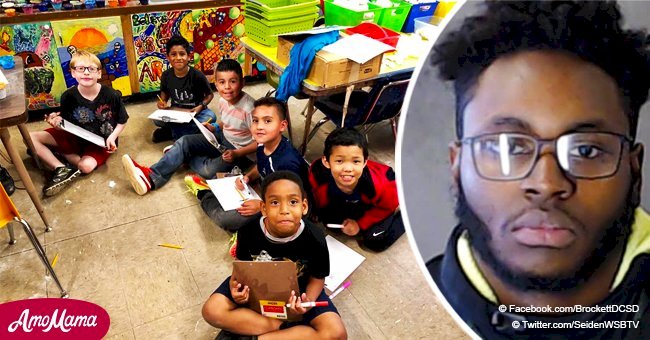 Elementary teacher arrested for allegedly stealing from his 9-year-old student
An elementary school teacher in Georgia is facing charges after security cameras recorded him stealing a student's violin to cover up for his expenses.
21-year-old instructor at Brockett Elementary, Georgia, Kalif Jones, took advantage of his students having lunch and stole the violin that costs more than $750, according to a WSBTV report.
The police authorities told a correspondent for the news outlet that Jones had now offered a full confession following which he was arrested and charged.
He made the confession after he was told that the surveillance cameras at the school had recorded his entire crime.
Follow us on Twitter to learn more.
The footage recorded on cameras show Jones picking up the violin case from the cafeteria and walking throughout the school with the instrument in his hands before finally leaving with it.
The school authorities began searching for the culprit when Linda Kessie, the worried mother of the 9-year-old student, became agitated and complained to the school's principal about possible thievery.
Kessie told the WSBTV correspondent, "Oh, my God. That's not fair. That's not right at all. I think it's despicable and embarrassing, to say the least. I think it's really terrible that a teacher would take advantage of a situation."
Police made an arrest immediately after Jones confessed to his crime. He revealed during his confession that he stole the violin to pay for a $700 ticket had had recently received. He was charged with theft by taking, a misdemeanor, as per the court records.
The news outlet sought more comments on the issue from the father of the convicted but he did not choose to respond. The mother of the victim, Kessie, also refused to provide an on-camera interview on the issue.
She, however, informed that the stolen violin was already recovered by the police and now they were waiting to get it back.
Shockingly, such misdemeanor from a teacher is not an isolated event. Recently in November, a school principal of a Florida elementary school was also accused of stealing $900 from a mentally disabled child.
He was arrested and charged with grand theft after being found stealing the cash from the student at Connerton Elementary School.
Please fill in your e-mail so we can share with you our top stories!