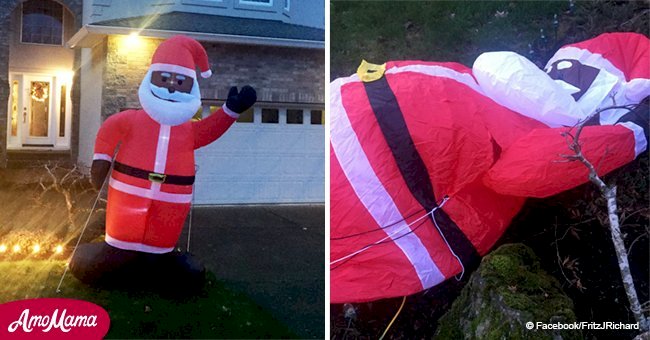 Unknown people brutally slash inflatable black Santa after family put it in their front yard
A black family in Portland, Oregon put up a black Santa only to find it destroyed within a day.
Over the years, black Santas have increased in popularity and have become a trend in African American homes across the world. However, as the presence of black Santas grows stronger, so did racism.
Follow us on our Twitter account @amomama_usa to learn more.
Everyone is in the Christmas mood and Michelle Obama even shared some dancing moves to prove it. Still in this spirit of Christmas and balance of culture, an African American family in Oregon decorated their front lawn with an eight-feet inflatable black Santa. However, their holiday ornament seemed to piss off a few people. Fritz and Belinda Richard, the affected couple, installed the Santa on Wednesday and to their dismay, it was deflated and slashed by Thursday morning.
According to Fritz, none of their neighborhood Caucasian Santas got slashed. So, he feels this brutal act is a show of racism.
"Somebody went out of their way to do this. Who slashes a Santa? Looks like someone had a problem with our black Santa, I found him this morning; someone took a knife to him. Trump is really changing this country! Is this how you make America 'great again', with hate crimes?" - Richard wrote on his facebook.
Richard's wife, Belinda had also wondered: 'There are white Santas all over our neighborhood. They aren't getting slashed.'
Fritz, who is of the opinion that the incident was an act of racism, later spoke to The Oregonian: 'There are a lot of neighbors who have Christmas decorations, Caucasian Santas and nothing that we know of happened to them.'
Bethany has a population of over 20,000 residents. However, only 1 percent are African American. Bethany is known to be 60 percent white, 31 percent Asian and of course, 1 percent black. So, the racist suspicions might be true.
The perpetrators of this act haven't been identified yet; it seems they struck in the middle of the night.What's right about this whole incident is the fact that many of Richard's neighbors are now rallying round to buy the black inflatable Santas and putting them up in their yards.
'The nice thing about the response from the next-door neighbors, is that we don't know any of these guys' - Fritz Richard told The Oregonian
Fritz too says he will be replacing his dear Santa. He plans to install cameras this time though; just in case the unidentified criminals come around again.
Please fill in your e-mail so we can share with you our top stories!