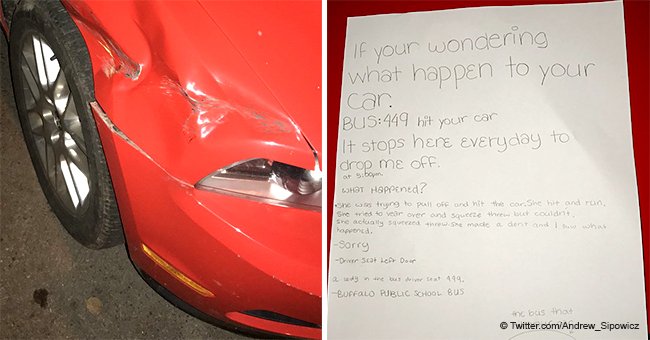 Story of 6th grader's note for car owner after witnessing hit-and-run accident went viral in 2018

In November 2018, Andrew Sipowicz took to Twitter to thank a sixth grader for saving him from paying a lot of money in repairing his car after describing the bus that hit it.
In the tweet, Sipowicz wrote: "shoutout to the anonymous 6th grader for saving me a couple of thousand (Bus not drawn to scale)." Apart from that, he attached two images that made the incident hilarious.
One of them showed the damage his car sustained while the next one was a hand-written note that the child left on Sipowicz' car. In it, the unidentified person wrote: "If your wondering what happen to your car, bus: 449 hit your car [sic]."
HER EXPLANATION OF THE INCIDENT
Apart from that, the child set clear that the bus stopped where Sipowicz' vehicle was parked every day to drop them off at 5:00 pm. Later, the kid explained in detail exactly how everything happened.
"What happened? She was trying to pull off and hit the car. She hit and run. She tried to vear over and squeeze threw but couldn't. She actually squeezed threw. She made a dent and I saw what happened. Sorry [sic]," pointed out the child.
MORE DETAILS AND THE OUTCOME
Later, the writer specified that it was a Buffalo Public School bus and signed the note with "a 6th grader at Houghten Academy." Even though the gesture and the way they recreated the events were funny, the most interesting aspect of the note was the drawing of the bus.
Days later, the identity of the sixth grader was revealed. Her name is Ziarra, and Sipowicz set clear that he found her and wanted to meet and find a way "to reward her for her actions." Ziarra's family set up a GoFundMe page to support her daughter's future. Soon after that, the bus driver was terminated for the hit-and-run incident.
HARRIET, THE CHEESE LOVER
That unidentified girl was not the only child who became a viral sensation in 2018. Alicia, the mother of a two-year-old toddler, was experiencing "mysterious disappearance" of some items from her fridge. One night, she found the theft in action. It was her daughter Harriet.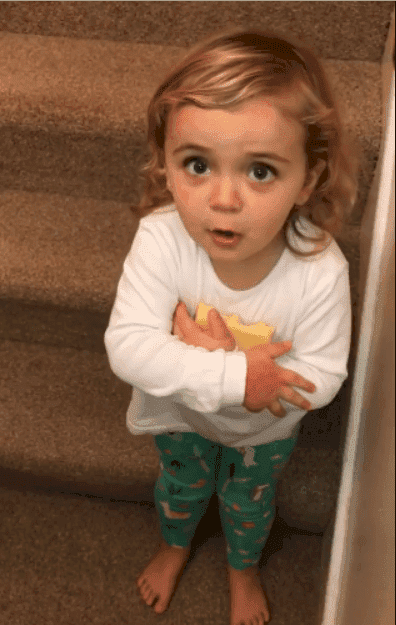 Source: Facebook/alicia.l.wilson.9
The adorable toddler was caught with the hands on the cheese, literally, as her mother cornered her in the staircase of their house while the girl tried to hide the evidence against her chest. "My fridge is open. Have you been in there?" said Alicia, but Harriet played coy, replying "No."
Their conversation continued for a while as Alicia was trying to get the block of cheese back while Harriet kept biting it and saying it was cake. The video quickly went viral, reaching more than three million views.
Please fill in your e-mail so we can share with you our top stories!