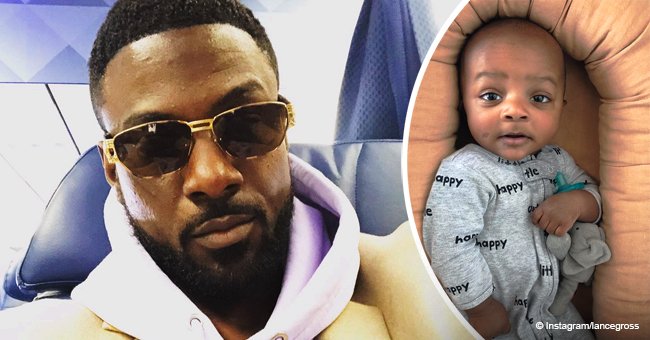 Lance Gross captures hearts with close-up photo of son Lennon in a 'happy' outfit
Lennon Gross is the vivid image of his father, Lance Gross, in a recent pic shared by the actor on Instagram. The little boy looks relaxed days after he turned five-months-old, and fans can't get enough of his cuteness.
Lance Gross is a proud father, and he can't stop gushing about his little boy everytime he gets a chance. The "Star" actor is regularly sharing pics of the boy on social media, and on one of his most recent posts, little Lennon stole hearts with his casual looks.
In the pic, the boy is resting on a comfy pillow while rocking a grey onesie with the word "happy" printed on it. He's hugging an elephant plushie and looks directly at the camera with a relaxed expression. "Sup," Gross captioned the pic, summing up nicely his baby's mannerism.
Fans immediately filled the comment section gushing about the little boy, whom Lance usually calls LL Kool K.
"@issmigritz: Why he looks so chill. I love his birthmark, looks like he got a kiss."
"@dany_jonae: His face has no room to look like his mama...he looks just like you!!!!!!"
"@tikki_nico: Too Cute!!! His facial expression is MOOD for sure."
BIG SISTER'S DUTIES
Lennon Lorin was born on July 10, two days after Lance's 37th birthday. He's the second child of the actor and star stylist wife Rebecca; they also share 4-year-old Berkeley Brynn.
The little recently had Lance's fans in stitches after he posted a video of her taking on her big sister's responsibilities by holding her fussing baby brother in her lap. Berkeley was not amused and didn't know how to handle Lennon, looking confused and like she wanted to run away any second.
"That moment when she realized parenting isn't a Breeze lol #notassimpleasyourbabydollsbaby," Lance captioned the hilarious video.
COLORISM CONTROVERSY
And while the actor's parenting skills enchant most people, he caused controversy on social media a few days after his son was born with a comment he made regarding the baby's complexion.
"LL Kool G my little man's color is comin' in nicely! I'm hyped!" he captioned an adorable photo of the newborn, and it didn't sit well with many people. They accused him of colorism, slamming him by stating that, if he wanted a baby with dark skin, he should have married a dark woman.
Lance, of course, took offense at the implications and addressed it with a lengthy post that read, in part:
"Two things I am proud of is the ability to smile through any situation and the rich melanin that layers my body. For my daughter or son to share that blessing makes me overjoyed. Miss me with the self-hate cause those assumptions are invalid. I love me more than anyone else ever could […] I am a proud BLACK man that loves my African American wife, and that will remain."
"Colorism exists, yes, but y'all not about to label every dark skin Black man who is in a relationship with someone lighter complexion under that bus. I chose love, not skin tone."
However, the debate over his words continued on social media, but the actor has already moved on as he focuses on work and keeping his family happy.
Please fill in your e-mail so we can share with you our top stories!