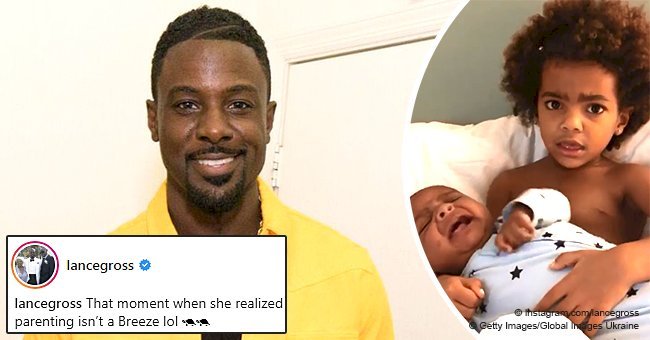 Lance Gross melts hearts with video of daughter Berkeley with her crying baby brother
She was a Wonder Woman not too long ago, but in an adorable video shared by her dad, Berkeley Gross clearly had no superhero tricks to get her brother to stop crying. The look on her face is priceless!
Lance Gross had the most fun recording his four-year-old daughter's reaction to her crying brother, Lennon, who is only five months.
In the video, Berkeley can be seen holding her brother in her lap. Lennon is wearing a blue onesie with stars scattered across the outfit, and the little man is agitated. Even though the big sister tries her best to pet him, hoping he'll stop crying, Lennon only wails louder.
Berkeley gives the person behind the camera a puzzled glare, looking helpless.
The "Meet The Browns" actor accompanied the clip with an equally hilarious caption: "The moment when she realized parenting isn't a breeze #notassimpleasyourbabydollsbaby."
Social media users were equally amused by the video and shared their reactions in the comments section.
"She's like is this what you be dealing with LOL."
"Lmao. She like stop filming [and] help."
"The look on her face is priceless! Like I didn't sign up for this!!!"
"Lol little Lance is not having it! Big sister is trying though! So cute!"
Poor Berkeley! She looked nothing like the confident girl in the Wonder Woman costume back in October. Lance had shared that photo of his daughter to announce that she was now tall enough to take some park rides, but apparently, she's still a long way off from understanding babies.
Lance, 37, and his wife, Rebecca Jefferson, welcomed Lennon Lorin Gross on July 10, two days after the actor's birthday. A few weeks later, Lance took to Instagram to reveal that he was "hyped" about his son's color "comin' in nicely!" but what was meant as an innocent remark became fodder for trolls who accused the family man of colorism.
Lance, however, wasted no time shutting down the critics and managed to keep it classy, too:
"Two things I'm proud of is the ability to smile through any situation and the rich melanin that layers my body! For my daughter or son to share that blessing makes me overjoyed. Miss me with the self hate cause those opinions and assumptions are invalid."
From the look of things, if there's anything Berkeley and Lennon can be sure of, it's that their daddy has their backs.
Please fill in your e-mail so we can share with you our top stories!