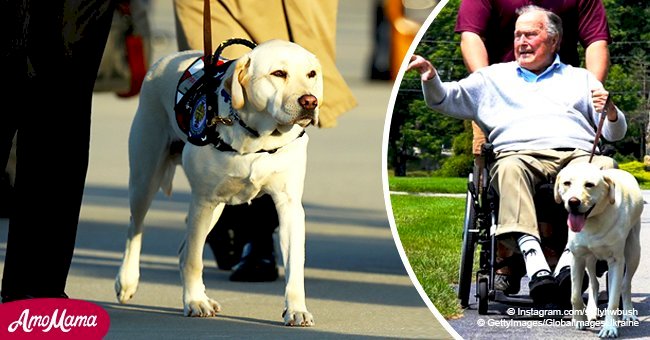 George H.W. Bush's dog Sully returns home for Christmas before fulfilling late president's request
Sully, the late former president's companion dog will go on to honor his wishes and provide his help to those in need.
No one will forget the first picture of George H. W. Bush released in the rotunda, as his service dog, Sully, laid curled up next to his casket.
Loyal even after his death, Sully had returned to the place where his journey began, in Smithtown, New York, at America's VetDogs headquarters where he was born.
At the VetDogs' campus, Sully received training through VetDogs' prison puppy program, so when Sully returned, dozens of supporters and fans gathered to welcome him back.
Read more on our Twitter account @amomama_usa.
Included in the crowd were government officials and veterans whom all applauded Sully as he entered. Valerie Cramer at America's VetDogs was Sully's final trainer and the one that has been by Sully's side since the former president passed away.
Before his death, George H.W. Bush said that he wanted Sully to help other veterans and VetDogs honored this promise.
Scheduled from February 2019. Sully will become Walter Reed Medical Center's new helper as a facility dog as Valerie elaborated:
"In his new role, Sully will visit injured veterans, helping to provide comfort during rehabilitation center sessions and visit with families during what can be an emotional and very difficult time. He will be fulfilling President Bush's request."
Until his new role begins, Sully will stay with Valerie in Long Island, New York. Named after the former airline pilot Chesley "Sully" Sullenberger III, the pilot who landed a damaged passenger jet on the Hudson River in 2009.
Looking after the late former president Bush gave Sully enough fame to warrant his own Instagram page, with Sully's official name and all; Sully HW Bush. The page features several pictures of Sully, including the famous photo of Sully curled up close to the late former president's casket.
Sully's fame even had CNN do a story on him, where they said the yellow Labrador could perform a two-page list of commands and includes Sully being able to answer the phone and fetch various items.
To Bush he was a valued companion, as he wrote on Twitter shortly after his arrival:
"A great joy to welcome home the newest member of our family, 'Sully,' a beautiful — and beautifully trained — lab from @AmericasVetDogs. Could not be more grateful, especially for their commitment to our veterans."
America's VetDogs service dogs are trained to perform many tasks, with training 'fine-tuned' to comply with the needs of their new owner.
Several tasks taught include the retrieval of small items, closing and the opening of doors, waking their handler during a nightmare and pushing buttons, supporting their handler while trying to stand or walk, and many more.
VetDogs first opened their doors in 2015 where they provide service dogs to veterans with disabilities from different sectors like firefighters, first responders, police, and emergency medical personnel.
The training of these dogs is an intensive period, as they spend the first year or so with a volunteer that teaches them basic commands and gets them socialized in public and private settings.
After the completion of their initial training, they then receive a further eight months of specialist schooling where they learn commands specific to the needs of the field they got chosen for.
Another nonprofit group called Canine Companions for Independence trains only Labrador and Golden Retrievers, or a crossbreed of both. And as part of a regular training exercise, the group recently took their bunch of training pooches to Disneyland for some fun and learning.
Although dogs are not allowed at Disneyland, they make an exception for these amazing dogs, where they run and play and just get to be playful young dogs, much to the delight of fellow visitors to the popular destination.
The group trains assistance dogs for veterans, children and adults alike and makes a big difference, just like America's VetDogs in an effort to give back to those that have given so much for their country.
Please fill in your e-mail so we can share with you our top stories!