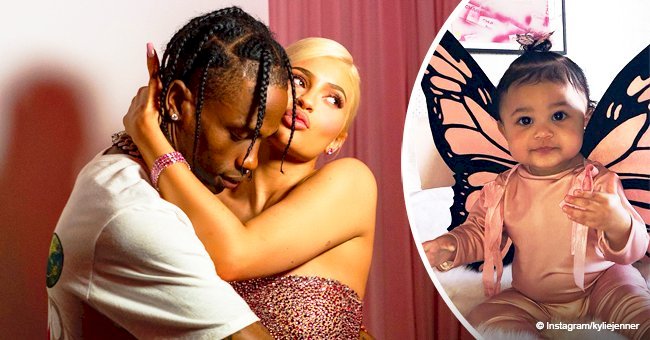 Kylie Jenner's boyfriend reveals they conceived baby Stormi weeks after dating
Travis Scott has revealed that he and Kylie Jenner conceived their daughter, Stormi Webster, after only three weeks of dating. The rapper also opened up about his plans for their relationship.
In a recent interview with Rolling Stone, Travis, whose real name is Jacques Webster, said that finding out that they were expecting Stormi was special.
"Kids are something we kind of talked about when we were getting busy," he shared.
Even though the "Astroworld" rapper initially wanted a son, having a girl has now become the best thing to happen to him.
Travis confessed:
"When we found out it was a girl, I was like, 'Huhhh.' But after a while I was like, 'Yo, this might be the illest thing that ever happened.' And when Stormi was born, I was like, 'Life is fire, bro.'"
Despite their busy schedules, Travis and Kylie do not compromise when it comes to 10-month-old Stormi. One of the rapper's more shocking revelations during the interview is that they do not allow Stormi watch television.
"Today kids are on iPads. There's so much technology, they don't play outside anymore," lamented the Houston native, adding:
"That's why, with Stormi — no TV. That TV [expletive] is out."
The couple also has what they call "Stormi Saturdays."
"We don't let nothing come over Stormi time. Stormi Saturdays. We don't [expletive] around with those. Even with me on tour, Stormi pulls up. She'll travel. She got more stamps on her passport than a lot of [expletive]," Travis disclosed.
Although their relationship has been the subject of speculations since they started dating in April 2017, Travis finally confirmed his plans for their relationship.
The 26-year-old revealed that he and Kylie share a religious faith and that he will soon propose to the reality star/beauty entrepreneur.
"We'll get married soon. I just gotta sturdy up — I gotta propose in a fire way," he assured.
His decision was apparently made after realizing that Kylie, 21, is the "one." Travis explained:
"Maybe, like, the first week, you don't know if it's real or a fling. Then the second week you're like, 'Whoa, I'm still talking to her, she's responding, I'm responding. We ain't run out of a thing to say.' And it got to a point where I was like, 'I need her with me to operate. She's that one.'''
For a while now, Travis and the "Kylie Cosmetics" founder have been referring to each other as "wife" and "hubby" so this may not come as much of a surprise to some. Still, for those who have been wondering what the next thing is for Stormi's dad and mom, there you have it.
Please fill in your e-mail so we can share with you our top stories!