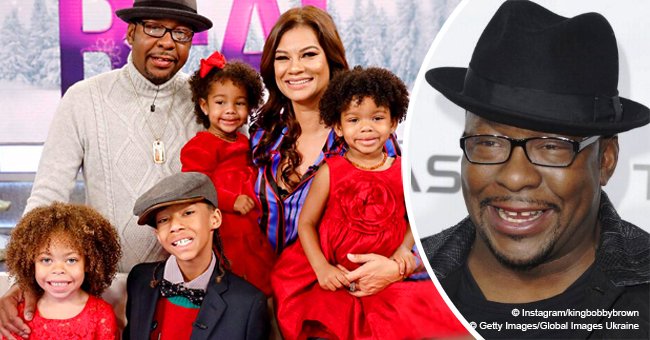 Bobby Brown makes rare TV appearance with his wife and 4 kids on 'The Real'
With his controversial past, Bobby Brown has kept away from the spotlight as much as possible. Now, however, he made a rare TV appearance with his wife and four children on "The Real".
Bobby Brown and Alicia Etheridge recently stopped by "The Real" with their four kids, hoping to teach them the importance of giving back. During the show, they spoke about their holiday traditions, which includes their kids giving their toys to underprivileged children in their community.
"My babies are totally spoiled."
According to Bobby Brown, he grew up not having much. That's why for someone who was able to work hard for what he has now, he tries to provide his children with the things that he once never had. However, his wife always asks him to control himself and stop spoiling their children so that they learn how to be independent and not materialistic.
"Coming from where I've come from, Santa don't come down your chimney. I go crazy [now]. My babies are totally spoiled. I spoil them. My wife's like, 'You've got to stop. You really have to stop.'"
Alicia soon after clarified that she doesn't mind her children having all the good things in life, but also does not want them to forget the people who do not have the same privilege as they do.
"We have a tradition, especially for the holidays, and they do it a couple of times per year. [Our kids] have to go in their rooms and clean out toys. There's so many [gifts]. I put them up, [and] they never even play with them. So all those unwrapped toys, they come down, we donate them, we give them to less fortunate children, and [our kids] get the new toys."
Etheridge shared that there are so many children out there who do not get any gifts for Christmas, so it is important for them to know the value of everything they receive.
This year, in honor of the holidays, Cassius, Hendrix, and Bodhi Brown made a donation to Toys for Tots, hoping to make some children happy this year.
To make up for their lack of media publicity, Bobby Brown often shares photos of his wife and kids to update his fans regularly. As for showing themselves in television more often, that might just happen this 2019 now that they are being more open to interviews like the one they did on "The Real".
Please fill in your e-mail so we can share with you our top stories!