Story behind the video of doctor dancing with 3 frightened sisters in hospital still warms hearts
Visiting the doctor can be stressful for people of all ages, but for kids especially, hospitals can be distressing. So, when this doctor noticed that his patient's sisters were worried and scared, he decided to cheer them up with a dance.
It is a doctor's job to take of your kids' health, but one doctor from the Wolfson Children's Hospital in Jacksonville, Florida, went beyond his responsibilities to make sure his little patient, Autumn Moses, and her sisters, were comfortable and a bit less nervous about visiting the hospital.
Autumn had to visit the doctor because of a strep throat, and her mom had to take along her other kids, Winter and Kristlynn. But as they waited in the room for the doctor to check on their sister, the girls started to get nervous for her.
Noticing the siblings' frighten, doctor Chima Matthew decided to lift their mood with one simple action: dancing. He pulled out his phone and put on the hospital bed, as Ayo & Teo's hit song "Rolex" blasted from it.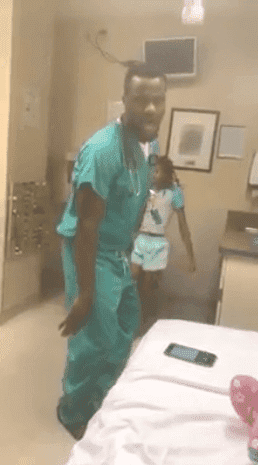 Matthew led the way making the signature moves of the song as the girls followed suit, slowly getting more comfortable with the doctor and dancing along as their mom recorded the whole interaction.
The kids' mother stated that she had never seen a doctor so natural with kids, and added that "two minutes out of his life made a lasting impression on ours."
PATIENTS' TESTIMONIES
The video, shared by the Wolfson Children's Hospital's Facebook page, went viral immediately. It has earned over 11 million views and 17k comments of people from all over the world.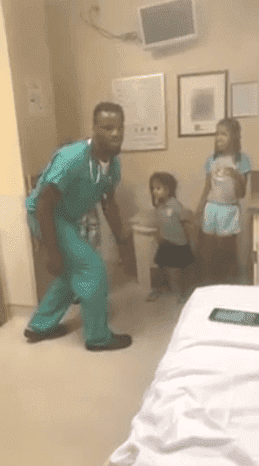 People were quick to praise Dr. Mathew for his actions, and more of his patients came forward to testify how great he is at his job.
"A doctor that reaches out to the precious kids is always a magnificent gesture. We need more Pediatrics doctors like this!"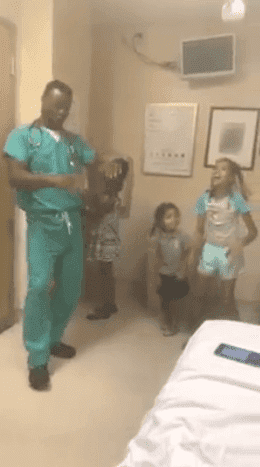 "My 6-year-old has seen him a few times, and he was the same way him, absolutely amazing!! He even knew I was nervous and he did all he could to make me laugh!!!"
"Hands down one of the absolute best doctors I have ever had to deal with... He was a Godsend to me and my daughter when we were there... He was so passionate and caring... Thank you for just being you... Don't ever change! Thank you from the Barton Family!"
ANOTHER "DANCING DOC"
Like Dr. Chima Matthew, another doctor that went viral for his amazing skills to calm kids down was Tony Adkins, a 43-year-old physician assistant that works at the Children's Hospital of Orange County (CHOC).
Adkins has earned the title of "Dancing Doc," and people are loving the way he can turn the hospital into a dance floor to give his patients the opportunity to be kids again and forget, even for a moment, about the illnesses affecting them.
Adkins wrote in a blog for MedPage Today:
"Practicing in neurosurgery means I see some of the worst things that can take place for a child. In an area of medicine where the stakes are high and the spirits often low, I believe it's important to create an outlet for kids to have fun because laughter and silliness is one of the best doses of medicine I can provide to patients."
He's continually sharing videos of his dances with patients on Instagram, where people have reached out to thank him for his services and his love for kids.