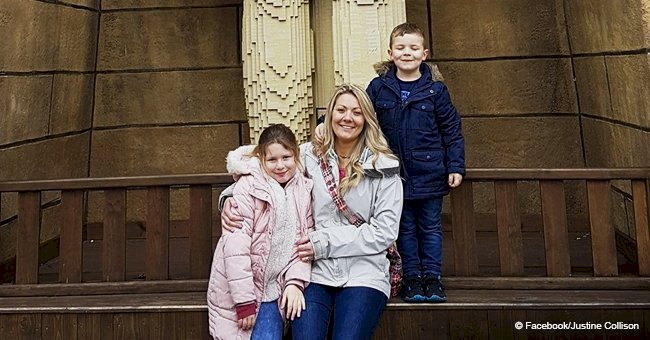 Mother and her kids burned alive in a terrible fire caused by Christmas decorations
A mother and her two children lost their lives tragically in a house fire that was allegedly caused by Christmas decorations.
The incident, which occurred in Nottinghamshire, England, claimed the lives of 33-year-old Justine Collison, her eight-year-old daughter, Izzy, and five-year-old son Harvey. The tragedy struck ten days before Christmas on December 15.
Harvey was rescued from the fire alive but later died at the hospital. Justine's husband, Gavin, meanwhile, remains in a critical condition at the hospital. The only survivor from the inferno was Justine's mother, Diane Fletcher, 53.
At the time of the tragedy, neighbors claimed that Christmas decorations must have started the fire.
The Mirro reports that one of them said:
"At this time of year it could be candles, or Christmas lights. It is just such a tragedy. I can't comprehend it."
The Collingham Fire Station also released a heartbreaking statement on Facebook that read:
"Our thoughts, prayers and deepest sympathies are with the Collison family, their extended family, friends, neighbors and the entire community of Collingham as we try to come to terms with what has happened. One of the proudest things an on-call firefighter can do is to serve his or her own community, but when events like this occur it hits us hard. We are totally devastated, and we know that the healing process for the whole of our village will be long and difficult."
Despite earlier speculations, a family friend of the Collisons later revealed that festive decorations had been ruled out as a cause for the fire.
"There has been speculation that it was the Christmas tree, but I can say that's not the case," said the insider. "We still don't know what caused it but a few things have been ruled out, and that was one of them."
A devastated friend described the late Justine thus:
"She was a breath of fresh air and brought a ray of sunshine wherever she went. A pure heart of gold."
Unfortunately, a similar tragedy took place in Youngstown, Ohio where a mother lost her five children in a devastating fire that brought their house to the ground in the early hours of December 9, 2018.
The holidays can have a lot of people distracted with many activities, so we all need to take extra care to ensure safety in our homes and environments.
Our hearts and prayers are with the families and loved ones of the victims of these fires.
Please fill in your e-mail so we can share with you our top stories!