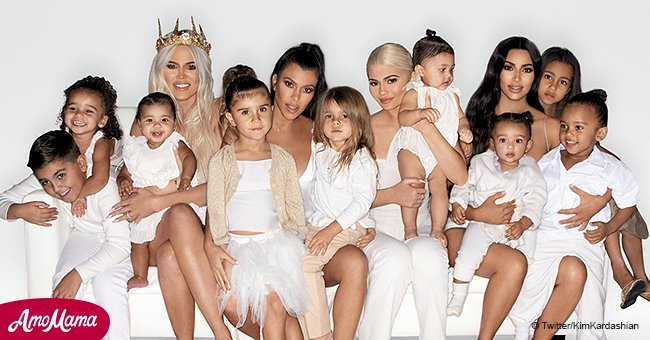 Kardashians reveal new all-white Christmas card, but a lot of family members are missing
As is their yearly custom, the Kardashians again shared their all-white Christmas card that we are all too accustomed to. However, unlike previous years, some members of the Kardashian/Jenner clan weren't in the photo, shown below.
The Kardashians seem to be getting too busy for Christmas cards as was revealed by this year's edition of their family Christmas card. Khloe shared a photo of their Christmas card and a lot of people — including their mother Kris — are not in it.
Follow us on our Twitter account @amomama_usa to learn more.
The Kardashians have an annual tradition where they take pictures as a family and use it for their Christmas card. This year, however, there were speculations that there would be no card, and the family tradition would be broken.
While these speculations have been dispelled with the most recent update on their social accounts, there was a noticeable absence of key members of the family and a lack of glam as against their always glammed up family Christmas Card. Here's a picture from last year's edition:
In this year's edition, however, Kendall, Kanye, Rob, Travis, Tristan, and the family matriarch, Kris Jenner, were all absent from the photo which included only Kourtney, Kim, Khloe, Kylie, and their beautiful children. The whole family was clad in white, sitting on a white chair and a white background.
Khloe captioned the picture:
"Merry Christmas. We all wish you love and harmony. So far this is by far my most favorite of any Christmas. I have all I could ever want, family."
Kim, who posted the same picture on her social accounts, explained earlier to E! that due to the drama surrounding last year's Christmas Card, the possibility of doing another one grew slimmer.
She further explained in her Instagram post the reason the Kardashian Christmas Card 2018 was scanty in contrast to the traditionally large family picture, where everyone is present, saying
"Schedules were changing, my husband was in and out of town. But the day of this card last minute realized we were all together so we had all of our kids come meet us. Kendall and my mom rushed to a meeting after this shoot so this is what we have! As many of us as possible!"
Though scanty, one cannot deny the beauty of the picture which had the children looking so adorable with beautiful smiles on their faces.
Fans are looking forward to a fuller, flanked and typical Kardashian Christmas Card picture next year.
Please fill in your e-mail so we can share with you our top stories!