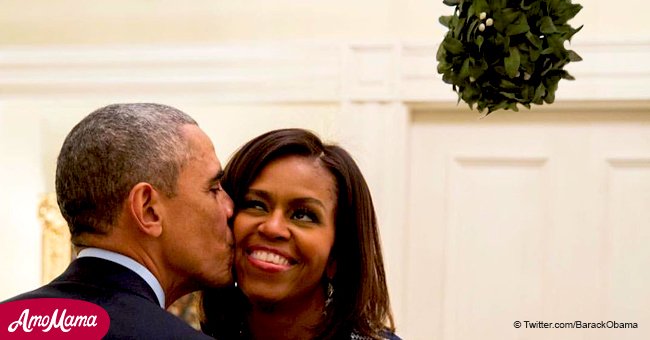 Former president Barack Obama wishes everyone Merry Christmas with a sweet photo of Michelle.

The former President of the United States took to social media and wished his followers a Merry Christmas.
The photo shows Barack Obama and his wife Michelle under the mistletoe while he plants a kiss on her cheek. The post soon went viral.
It was liked by more than 1.7 million and received nearly 20,000 comments in under six hours. Read more on our Twitter account, @amomama_usa.
He wrote in the caption: "Enjoy the holiday season with the ones you love Michelle, and I wish you a very Merry Christmas!"
His followers wished the couple a Merry Christmas, with some expressing their wishes in the comment section for Obama to return to the White House.
One Instagram user described Obama as "the King of our hearts" and thanked him for "still being our real leader," while another simply said: "Please come back!"
Another user said she always "loved seeing how much you two love each other, and that misses "that wholesomeness in the White House."
A user known only as Roncuellar said: "You and Michelle have been a great inspiration to my daughter. She recently became the first female president of her school."
While the public generally believes that the Obamas are the perfect couple, that wasn't always the case as Michelle recently revealed.
According to Michelle, she took Obama to marriage counseling to "fix him" after the couple went through a rough patch. She said at the time:
"The thing about marriage counseling is, I was one of those wives who [thought], 'I'm taking you to marriage counseling – so you can be fixed, Barack Obama,'" she recalled. "Because I was like, 'I'm perfect.' I was like, 'Dr. X, please fix him.'"
Keeping the Christmas cheer alive and well, Obama showed up at the Children's National Hospital in Washing D.C.
On behalf of the Obama Foundation, the former President dropped toys off and spent some quality time with the children.
Please fill in your e-mail so we can share with you our top stories!