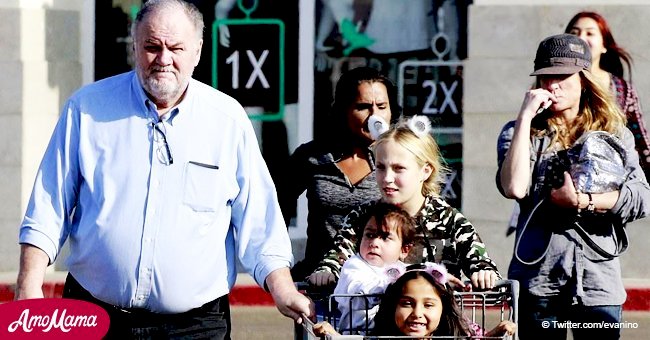 Meghan Markle's dad spent Christmas handing out gifts to refugee children on Mexican-U.S. border
While Meghan Markle spent her first Christmas as Prince Harry's wife, her estranged father, Thomas handed out gifts to refugee children on the Mexican U.S. border.
Thomas Markle, with two female friends and their three daughters, spent time handing out sweets, games, and toys to children at a hostel for refugees, a mere 200 yards from the Tijuana, Mexico, and San Diego, California border crossing.
Children reacted with sheer delight as their screams of joy could be heard from the street outside.
After bringing some joy to the children at the hostel on Christmas, Thomas and his friends went to another refugee camp a half a mile away, on the Mexican side of the border to deliver some more holiday cheer.
Read more on our Twitter account @amomama_usa.
Markle and his friends had packed their SUV in Rosarito, the town where Thomas lives, a few miles from Tijuana.
Once at the border they came face to face with the growing crisis at the border, having made Tijuana the busiest border crossing with the United States.
At the camp, known as La Mapa (The Map), about 100 tents stand pitched on empty land accommodating mainly deportees from the U.S. hoping to cross back into the States.
Following their charitable gift giving to the children, Thomas and his friends went for lunch in Rosarito, where he played merrily with his friend's children.
In stark contrast, daughter Meghan spent Christmas with the royal family at Sandringham, the Queen's estate in Norfolk.
With strict Christmas routines, the Royals celebrate Christmas throughout three days. Members of the family started arriving during the afternoon on December 24, where they joined the Queen and her husband, Prince Philip, who arrived on Thursday. With a set arrival schedule, the most junior royals turn up first.
Presents are opened after the 4 pm afternoon tea on Christmas Eve, with only gag gifts allowed. During a previous Christmas, Kate humorously gave her then single brother in law, Prince Harry a 'grow your own girlfriend' kit.
Christmas Eve dinner at 8:15 pm has a strict black tie dress code, while they make sure to get enough sleep in for the busy day to follow.
On Christmas morning the men gather for a full English breakfast at 8:30 while the women enjoy a light breakfast of toast, coffee, half a grapefruit, and other sliced fruit in their rooms. The Queen's breakfast tray gets delivered at precisely 9 am.
The annual church service at the St. Mary Magdalene Church in Sandringham follows at 11 am whereafter a traditional feast is served at 1 pm while the kids eat in the nursery at 12:30.
Dessert follows an hour after mains, and with all hunger pains successfully curbed, the family sit down to watch the Queen's address on the telly before they gather for a game of charades.
Thomas surely embraced the spirit of Christmas but was hoping to hear from his daughter Meghan, as he said during a recent interview on 'Good Morning Britain.'
Meghan's father also made a plea to the Queen, asking her to intervene and said that he would "appreciate" anything the Queen could do to help, as Thomas considered her to be a person that "would want to resolve family problems."
Amid all the publicity surrounding Thomas, and Meghan's half-sister, Samantha, the Royals have kept from any comments, and if the Queen decided to speak with Meghan regarding the rift between her and her father, it will in all likelihood be kept private.
Please fill in your e-mail so we can share with you our top stories!