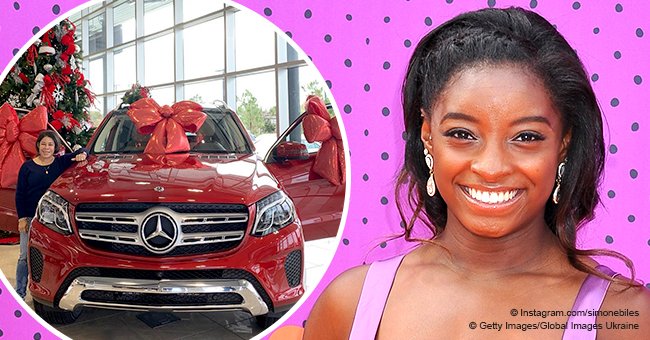 Simone Biles gets dragged for buying her mom an expensive red car for Christmas
Simone Biles went all out with her Christmas present for her mother this year. She got her a brand new car. But in the midst of her joy in making her mom happy with her lavish gift were nagging jabs from fans who questioned it.
Red is the color of the season and so is the Mercedes SUV that Simone Biles gifted her mother Nellie Biles for Christmas. The Olympic gymnast shared a photo of her mother receiving her gift at the dealers and captioned it,
"merry christmas momma biles."
THE STORY BEHIND SIMONE'S MOM
We all know how grateful Simone is to Nellie who is actually her grandmother for raising her. Simone's biological mother, Shanon was battling drugs and alcohol addiction when Simone was around 6 which prompted Nellie and her husband, Ron Biles to adopt the gymnast and her sister Adria.
Since then, Nellie has been the woman Simone looked up to as her mom despite occasionally seeing and communicating with Shannon.
HONORING HER MOTHER IN THE PAST
In 2016, Simone participated in a "Thank You, Mom" campaign launched by Procter and Gamble to pay tribute to mothers of Olympic athletes. Simone recognized Nellie's role in supporting her dreams and being there for her.
"She encourages me and never lets me feel down about something for too long. If I've had a bad day in the gym or needed emotional support, she was always there."
DOUBTS ABOUT HER LAVISH GIFT
With the kind of love Nellie showered on Simone, it's no wonder the young athlete wouldn't think twice about gifting her with a gift as extravagant as a car. However, despite many who commended her thoughtfulness in her post's comments section, some chose to pick on the gift and question how Simone could even afford it.
"That is too expensive as a present. Not good..."
"Where you got the money from? You don't work, you only do gymnastics... thats not a job..."
Luckily, there was one commenter who defended Simone and corrected this fan's misconception by saying,
"you jealous because you cant buy your mom a car....and yes simone does work gymnastics is a job!!!!"
WHY SHE'S A BANKABLE ATHLETE
Contrary to what others may think, Simone is a well-accomplished gymnast whose success in the sport has led her to many endorsement deals which afforded her the luxury of buying her mother a car. In 2016, E!News revealed she was worth $2 million before competing at the Rio Olympics where she won four medals.
After her win, she doubled her income and reportedly increased her net worth by landing $4 million worth of endorsement deals with companies like Hershey's, Nike, and Kellogg's.
Simone's popularity as an endorser wasn't based solely on her skill as a gymnast or on her impressive record of being the first American woman to win 5 top gymnastic titles. Reports suggest it's also her inspiring backstory including her Larry Nassar episode that won her the hearts of many.
BREAKING HER SILENCE ABOUT A TROUBLED PAST
Earlier this year, she joined dozens of gymnasts who broke their silence about the sexual abuses they experienced under the hands of their sports doctor, Nassar. It took a while for Simone to come out in the open but she finally did in order to relieve herself of the guilt she was carrying for years. Nassar has since been sentenced to 175 years in prison.
Please fill in your e-mail so we can share with you our top stories!