Mom ignored doctor's advice to abort two of her triplets - and look at them now
A mother of triplets has impacted on social media with her crude account of her pregnancy and motherhood, where she not only tells how beautiful it is to become a mother, but also the most difficult part.
It all started when the young mother was told at her 12-week scan that the placenta was being shared unequally and the triplets were suffering from growth restriction.
After this result, doctors recommended aborting one or two of the children to give the third more opportunities to develop without any complications. However, the parents didn't agree and decided to take the risk of bringing the three babies into the world.
Doctors told mother to abort two of her three triplets - but she ignored them and look at them now https://t.co/2r3IO80ECS

— Daily Mail U.K. (@DailyMailUK) December 26, 2018
'There was a risk to all of them,' she said. 'Oliver was 25 percent smaller than his brother and the blood flow was not getting to him properly. If Oliver died, Oscar could have died too.
'But there was no way that we could finish one or two babies. We had to give them all a chance of survival.'
From that moment, the woman decided to share her process in social media, where the story of her pregnancy caused a great impact.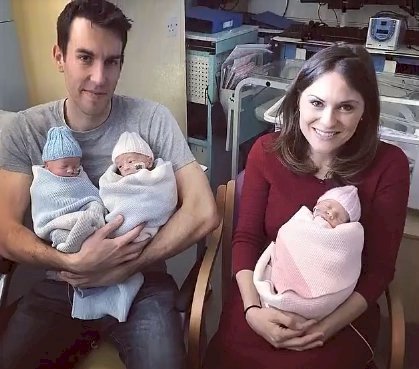 'At 28 weeks we were told he had stopped growing completely. But doctors said that as long as the blood flow was carried on to him, then they would leave him in the womb.'
But the tranquility lasted only three weeks, after that period the doctors discovered that little Oliver had stopped receiving blood flow so they performed an emergency C-section to save his life.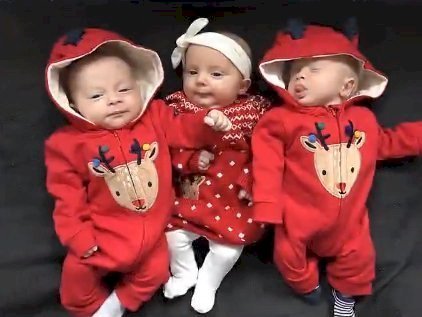 A little over two months ago the triplets Oliver, Oscar, and Aurelia were born. The three were born safely although Oliver weighed only 2lb 15oz, while his identical twin Oscar was 4lb. Non-identical Aurelia was 3lb 15oz.
The three little angels had to stay in the hospital for a month until the doctors determined that it was safe to go home. Despite how small Oliver was, he quickly began to gain weight and reach his siblings in measures.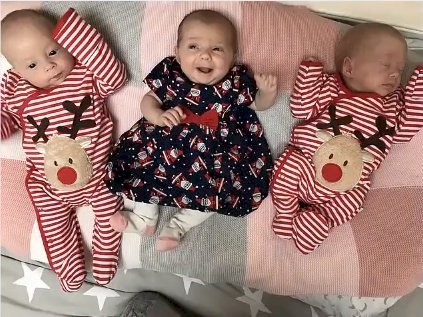 The children, meanwhile, are growing strong and their growth process has also been documented by the mother, who already has a large number of followers who follow their adventure with motherhood day by day.
Another lady, who goes by Triplets of Copenhagen on Instagram, took photos week after week and made a collage showing the progress, starting in week 12 and ending in week 34.
Since she had triplets, her belly was considerably bigger than common pregnant tummies. It already looked like a full-term pregnancy in week 18. In the caption, Maria pointed out that it was an amazing journey.