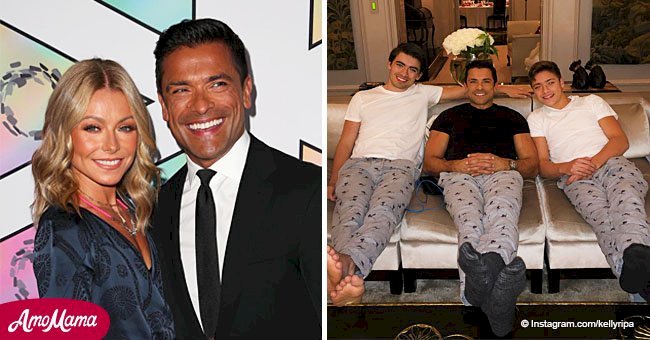 Kelly Ripa shares cute photo of husband with look-alike sons Michael and Joaquin

It is an all-boys affair in Kelly Ripa's home; the beautiful mother of three posted some pictures on her Instagram account which show only her handsome husband Mark and their two adorable sons; Michael, 21, and Joaquin, 15.
The three men sat together on a couch with matching casual pants and smiled as Kelly took the pictures. The two boys wore simple white shirts while their father opted for a black one.
She captioned the picture "Waiting patiently……..sort of ??"
This caption was apparently in anticipation for unboxing the gifts as the next post showed the boys; Michael and Joaquin on the floor sitting beside the beautiful Christmas tree with lots of unwrapped gifts beneath it. More pictures then followed.
The uncanny resemblance between the men never seems to stop surprising fans — especially Michael who shares the same features with his father.
Kelly's daughter, Lola, was visibly absent in all four pictures, most likely an intentional move as Lola as made it clear she appreciates her privacy. Though she recently appeared on the red carpet with her mom and they both looked stunning.
Kelly has really tried hard to strike a balance in her home as not everyone is into public attention. She has to balance how much she shares with her fans and still respect the privacy of her children, especially Michael and Lola, who are very adamant about their parents giving them some space. They allow their folks to share a little bit here and there once in a while to the delight of their fans.
Kelly posted a picture of herself and her handsome husband and captioned it:
"#fbf 2015 Ghosts of Holiday Party Past. Naughty and Nice."
The happy couple smiled lovingly at each other in the picture and Kelly in the spirit of Christmas decided to share the love in the air with her fans.
On the other hand, Mark did not put much up on his social media account but shared a quick shot on his Instagram stories showing a dinner table all made up and waiting for everyone to eat.
He set the table for nine people, but didn't give any more information about who else was joining them for the Christmas family dinner.
It looks like this Christmas was a lot of fun for the family.
Follow us on our Twitter account @amomama_usa to learn more.
Please fill in your e-mail so we can share with you our top stories!