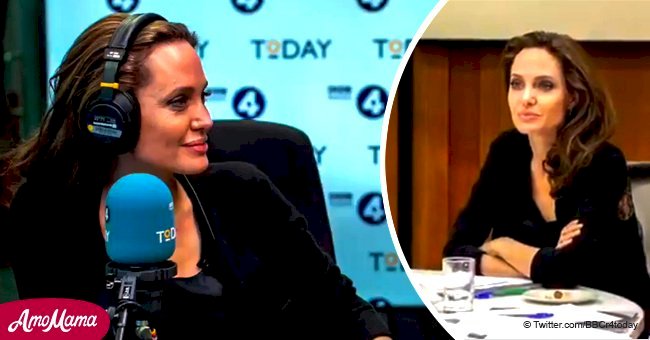 Angelina Jolie hints at political ambitions while answering question about running for president
Angelina Jolie surprised fans when she hinted at considering running for president in 2020.
During an interview on BBC Radio 4's 'Today' program, Angelina spoke about where she thought she could make the most difference in the world. When the subject of entering politics came up Angelina responded:
"If you asked me 20 years ago, I would've laughed. I always say I'll go where I'm needed, I don't know if I'm fit for politics, but then I've also joked that I don't know if I have a skeleton left in my closet."
In a series of statements Angelina states her thoughts about politics in a way that can be construed in more than one way, as she continued:
"I don't know if I'm fit for politics, but then I've also joked that I don't know if I have a skeleton left in my closet — I'm pretty open and out there, and I can take a lot on the chin. So that's good. But I honestly will do whatever I think can really make a change."
Angelina looks forward to being an executive producer on a new BBC-run global English language news program for children and set to premiere in 2019. She believes it will help young people globally to be connected and have a greater understanding and awareness of news on an international basis.
43-year-old Angelina continued as she spoke of her work, and how it has given her relevant experience in achieving her goals as she said:
"I'm also able to work with governments, and I'm also able to work with militaries, and so I sit in a very interesting place of being able to get a lot done without a title and without it being about myself or my policies."
As special envoy for the United Nations' campaigns against sexual violence and refugee agency, Angelina added that she will "stay quiet for now." She followed it up with a short laugh, just as host Justin Webb mentioned that he had put her on the list of potential Democrats who might run for office in 2020.
While Angelina works on humanitarian issues important to her, working towards unity, she doesn't just preach; she practices it at home as well.
Angelina and ex Brad Pitt share six children, three from Vietnam, Ethiopia and Cambodia, and three biological offspring. Custody agreements got finalized earlier this month, and things are ready to fall into a new family routine.
The Hollywood star proudly boasted that her children celebrate their differences and gave examples:
"Shiloh, for example, is the one that's learning Mad's (Maddox's) country's language, and Vivienne wants to live in Zahara's country. So just because they're from a place doesn't mean that that's everything that defines them."
As Angelina continued she made highlighted the way her children see each other, their perspective and said:
"They see the other, so to them, family wasn't the one that looked like them, it was the other…"
As they say, charity begins at home, and Angelina is doing a stellar job and probably grateful that the custody agreement has been finalized.
A few months ago Angelina got told by the Los Angeles County Superior Court judge that keeping Brad away from the kids is not in their best interest.
The judge added that the kids need to spend more time with their dad and if Angelina does not allow Brad access that she could lose custody of her brood.
Maddox, the couple's eldest son, is 16 and exempted from the order as he is considered old enough to decide for himself where he wants to be. Thankfully matter never got to that point, and the family can look forward to a new year with legal matters settled at least.
Please fill in your e-mail so we can share with you our top stories!