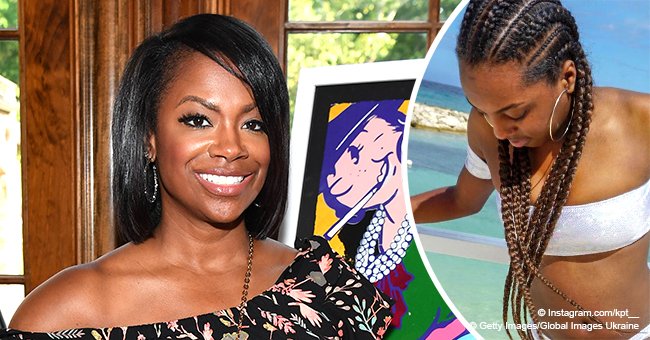 Kandi Burruss' step-daughter turns up the heat in white bikini during holiday vacation
Kandi Burruss step-daughter, Kaela Tucker, is enjoying the holidays with the rest of the family in Jamaica, and she looks stunning flaunting her toned body in recent pics shared to her Instagram.
The 22-year-old fashionista is having fun under the sun for Christmas alongside her father, Todd Tucker, and the rest of the family. As an Instagram star on the rising, Kaela made sure to update her fans on her endeavors, sharing a series of pics from the trip.
In one of the shots, she rocked a two-piece white bikini that put her toned body on display. Kaela completed the beach look with braids and silver hoop earrings, as she stood on a white fence with the aquamarine sea in the background.
"Jamaica I love you" she captioned the post.
She also shared another pic alongside Kandi, her half-sister Riley and family friend Jasmine "QT Jazz" Robinson lounging on a bed by the pool in their best swimsuits. "Vacation with the family," the girl captioned this one.
Fans have been gushing about the fashion business owner in the comments. "Okkkkk yessss come through baby you look great," wrote one user, and another added, "That's right enjoy! Keep living your best life. Being with family makes it all the sweeter."
FANS ATTACK KANDI FOR LEAVING KAELA OUT
While Kaela and Kandi have a great relationship, fans have tried to stir up some drama between the family in the past. Since Kandi is always posting pictures of her kids, Riley and Ace, some trolls started to criticize her for neglecting Kaela and not making her feel like part of the family.
However, Burruss is not one to stay silent when people mess with her family, so she made sure to clap back to one hater in January after posting a pic her kids in the middle of "The Great Xscape Tour."
The nosy fan wrote:
"Where is Todd's daughter and why isn't she in Laurel I could be wrong, but I hope she doesn't feel left out."
And Burruss hit back:
"I hate when Y'all do that she is fine she went to see her mom in New York, and that's the only reason why she wasn't at the concert if you must know."
AN ENTREPRENEUR ON THE MAKING
But while fans and trolls alike keep on trying to start some drama, Kaela, like her father, is busy. At 22, the beauty is already at the front of her fashion store.
Styled by KPT started running in 2018 with a few sunglasses, pants, t-shirts and dresses, but it seems like Kaela will be releasing more items in 2019, and she has asked fans to stay tuned to her updates on the store.
"There is style all over the concrete jungle and beyond. I know when you look good, you feel good. I'll do my best in helping you look beautiful. I believe we all possess our very own runway. The world is YOUR stage!" Kaela wrote in the description of her store.
Is clear that Kaela is trying to make a name for herself in the fashion industry, and fans can't wait to see what will come next for the girl.
Please fill in your e-mail so we can share with you our top stories!