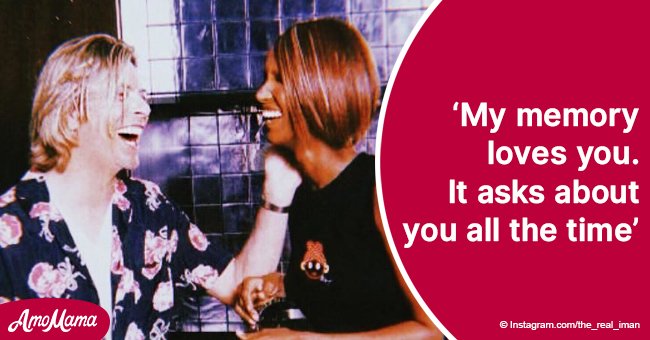 David Bowie's widow pays heart-wrenching tribute on the date of his 72nd birthday
David Bowie's widow, Iman, posts a touching tribute to the deceased icon on his birthday.
On January 10, 2016, the world lost one of the 20th Century's most influential and innovative musicians, David Bowie, 69.
On what would have been his 72nd birthday on January 8, 2018, his wife Iman Abdulmajid posted a touching tribute on Instagram to her life partner.
"I did not fall in love with David Bowie. Bowie is just a persona. He's a singer, an entertainer. David Jones is a man I met."
IMAN AND THE STARMAN
In 1990 rock star David Bowie met supermodel Iman at a friend's birthday party, and it was love at first sight.
Two years later the tied the knot in Tuscany, Italy, and proceeded to live happily ever after. The loved up couple welcomed a daughter, Alexandria Zahra Jones, in 2000, in addition to the two children they had from previous marriages.
In 2014, Bowie was diagnosed with liver cancer and would spend the next 18 months fighting for his life
IMAN'S TRIBUTE TO THE LOVE OF HER LIFE
Iman posted a heartbreaking post on Bowie's birthday, a photo of the two looking very much in love captioned:
"Jan 8th Eternal Memories, Eternal Love #BowieForever."
She followed it with an original quote: "My memory loves you. It asks about you all the time."
BOWIE'S FIGHT FOR LIFE
The celebrity couple led an intensely private life, and shielded themselves and their children from the press' scrutiny. Iman would later explain that she fell in love with David Jones, not David Bowie.
In 2014, Bowie was diagnosed with liver cancer and would spend the next 18 months fighting for his life, though he never stopped working. He passed away in 2016 in his New York apartment two days after the release of his twenty-fifth studio album, Blackstar, and his 69th birthday.
DAVID BOWIE DIDN'T KNOW HE WAS DYING
, "David Bowie: The Last Five Years," was released on the anniversary of David Bowie's death and revealed that the star did not know his cancer was terminal until three months before his death.
Fans have always believed that when Bowie filmed the video for his last single "Lazarus," he knew that he was dying and that it was his farewell to his fans.
Johan Renck who directed the video, has revealed that the singer didn't know about his terminal cancer, and that the concept had been developed a week before the final diagnosis.
In a related story, David Bowie's son, director, producer, and screenwriter, Duncan Jones, announced the birth of his second child, a daughter.
Please fill in your e-mail so we can share with you our top stories!